Get Ready for the Gold Rush
May: [noun] the fifth month of the year; the last full month of spring; time to get ready for vacation Bible school. Yeehaw!
When May comes roaring in, VBS takes center stage here at Answers in Genesis. Over the past few years, we've explored the Amazon, shot into outerspace, and dug into ancient Egypt. And each year, we've rounded up some great online tools to help make your VBS a gospel-focused success.
Like what? Well, for starters, our Answers VBS website has become a central hub for AiG VBSers across America. Each year, we've loaded it with helpful tips, ideas, and downloadables. A year ago, we also added a VBS Manager to coordinate your VBS from one central location. You can register students, keep track of volunteers, plan your events, print out schedules, and more (including some new features we'll tell you about in a bit). Plus, did we mention that this is all included with your VBS Super Starter Kit?
But we aren't leaving it there—not when we have a Gold Rush coming this year. In other words, "You ain't seen nothin' yet."
First, grab a shovel and dig into our new Answers VBS blog. Stacia McKeever, our VBS sheriff, has been collecting and sorting through some tips to give your VBS a golden shimmer. She'll show you how to keep the youngsters busy and having fun before the main event, how to speak the language of the times (don't want to miss what a skunk egg is, after all), and how to get the older folk involved. In the future, you can also expect behind-the-scenes looks at how the wagon gets hitched, special giveaways, and photos from other churches to give you some ideas.
As we mentioned before, our VBS Manager has also gotten some attention. If you're looking to get some press for your VBS, we can help you with your own blog, packed full of your photos. We've got a box full of easy-to-copy widgets to add to your church's website. If you want to communicate with your workers and students, we can make it easy to get the word out faster than the Pony Express with automated email. You can even give web access to your posse of volunteers and staff.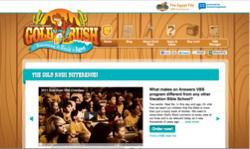 With all these tools, your Gold Rush should be packed with eureka moments, exciting adventures, and maybe even a sinker or two.
If you're looking for a Gold Rush happening near you, be sure to take a gander at our Upcoming Vacation Bible Schools page. They're not all out West, after all—something's sure to be close by.
Keep up with all the goings-on through our Answers VBS Facebook page and Twitter account. Now, what are you waiting for? There's gold to be found . . . in God's Word.
Take AiG on Vacation with You!
If you're gearing up for a summer getaway, don't forget to bring AiG with you. You can't pack us up, but with our tips and guides, your vacation can become a chance to build a biblical worldview. From Grand Canyon, Arizona, to Newcastle, Australia, take a Creation Vacation the whole family will enjoy.
In Store: The Sad State of Christian Colleges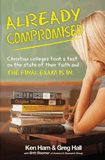 Early every fall Christian parents engage in a great American tradition: they shell out hundreds of thousands of dollars to send their children to a Christian university, Bible college, or seminary. In good faith, they entrust them to the professors and administrators who are supposed to train them in the truths of Scripture.
The students themselves enter eagerly, committed and excited to begin their training. What the parents and students don't know is that, like the majority of the great Christian institutions of higher learning of the past (e.g., Harvard and Yale), a growing number of Christian schools have lost their way.
In the challenging new book, Already Compromised, Ken Ham teams with Dr. Greg Hall, president of Warner University, for an eye-opening assessment of over 200 of America's Christian colleges and universities. Britt Beemer and a team from America's Research Group spent many hours interviewing college presidents, vice presidents, and professors to compile a clear picture of the state of Christian colleges.
The results will shock you.
For example, you'll discover that, commonly, administrators don't really know what's being taught, and little is being done to weed out unorthodox and errant teaching. Ken and Greg examine the results to help you understand what's really going on and what you can do.
Which Christian colleges will build your faith? And which will attempt to tear it down? Find out in this must-read book for Christian parents and future college students.
Question of the Month
I want to tell people to go to your site if they have questions, but where should I tell them to send those questions?
First, thank you for sharing our site with others—and for telling them to send us their questions. We're always glad to help, and we answer as many inquiries as we can.
That said, they may not even have to ask. We've addressed thousands of topics over the years (our web archives go all the way back to 1999, in fact), and it's likely we've already dealt with many of the big issues—such as these:
A quick site search from our handy search box at the top of nearly every page or a quick tour through our Online Books topic list may be all they need. We also have many free online books that help with the "bigger picture." If they prefer video clips or audio, tell them to check out Video on Demand and Answers Radio for relevant media.
Once they've searched and if they still can't find an answer, refer them to the "Got Questions?" box on the left-hand side of the page in our Online Books topic list. Clicking that link will take them to a form for sending in their questions as a general inquiry.
(Have a question for InSite? Let us know! Be sure to mention that your question is intended for InSite.)
Did You Know?
Did you know that we have two articles in particular that have been creating a great deal of interest this year? The first is a perennial heavyweight for pageviews: Dinosaurs and the Bible. In fact, the article keeps grabbing more and more attention. The other? Because of Ken Ham being dis-invited from a few homeschool conferences, we've seen high interest in Kicked Out of Two Homeschool Conferences—mostly from those supporting Ken.
About InSite