Here's Where 2011 Went . . .
If you're like us, you're probably wondering what happened to 2011. One minute we're chugging through summer, and the next it's January again. But even though the last year has vanished, a quick look back reveals just how big 2011 was—and gets us excited about 2012.
First, we expanded the shelves of our online library of free books to make room for some great new additions. For Christian parents, we rolled out Raising Godly Children in an Ungodly World. We also decided to share the important research from Already Gone: Why Your Kids Quit Church and What You Can Do to Stop It. And just a few weeks ago, we took compromise to court with Old-Earth Creationism on Trial.
Over the past few years, we've also launched some exclusive content on our website—and 2011 was no exception. This includes the in-depth apologetics series for those learning to defend their faith (if you like to read offline, we've bundled them into the book How Do We Know the Bible Is True?); the timely "Strengthening Your Faith in College" series; and—thanks to a great response from the first collection—we're currently debunking attacks on the Bible in our Biblical Contradictions 2 collection (with more to come).
Each month, we also feature a big question to help people engage the Bible and share with others (the big banner on the front page). Two popular ones that you might want to check out are "Evolution? Impossible!" and "Adam + Eve = All Skin Tones?" (or browse through our archive for all kinds of good information).
For Friday feedback and News to Note fans, 2011 proved to be a good year for tackling some prickly challenges. On the feedback front, here are a few you shouldn't miss: Feedback: Do You Believe in Santa Claus? Read Carefully, Should I Disown My Daughter? and We also tackled a number of the big news stories of the year, including Steve Jobs' flight from faith, the death of the molecular clock, and the claimed evidence of alien life.
We've also been busy on the technical side of things, and we hope you've followed along with our two science journals: Answers in Depth and Answers Research Journal. Here's just a sample of the topics being covered: Is the Wood Recently Found on Mt. Ararat from the Ark? The Six Days of Creation and Evolutionary Theory: Are They Compatible? Beyond Distant Starlight: Next Steps For Creationist Cosmology, and Determining the Ark Kinds.
And that's where 2011 went. But stay tuned—2012 looks to be another exciting ride.
A Devoted Resolution
Kick your Bible study up a notch this year with our daily devotional.
In Store: Buddy in the Badlands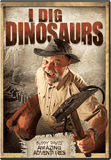 Digging for dinosaur bones in the Badlands of Montana isn't easy. The weather sometimes proves unpredictable, featuring both hot winds and torrential rains. But the rewards of uncovering amazing discoveries make it worth it. And that's just what you and your kids will experience in the new DVD Buddy Davis: Amazing Adventures—I Dig Dinosaurs!
You'll join Buddy in uncovering a big dinosaur bone, and in the process you'll see the effects of Noah's Flood on the Montana landscape, where floodwaters scoured the earth and left a mangled graveyard of dinosaurs, fish, plants, and more. It's a treasure trove of fossils.
Along the way, you'll meet Dr. John Whitmore, a paleontologist, who explains the facts surrounding the often talked about red blood cells and pliable tissue recently found in dinosaur bones. How could these remains last for millions of years? Or could they?
This fast-paced DVD overflows with fun Bible-based dinosaur facts that yor whole family will enjoy (over and over again, if the comments we've received are any indication). The bonus content includes a look inside Buddy's dinosaur design studio, a peek at the mechanics that power the animatronic beasts at the Creation Museum, and much more.
So, join Buddy in I Dig Dinosaurs! and gear up for adventure.
Question of the Month
I teach Sunday school, and I would love to use a curriculum from Answers in Genesis. Do you have one available?
We have many resources that are perfect for use in Sunday school settings, but we do not yet have a comprehensive curriculum designed for all age groups. You can see the curricula we have available now by visiting our curriculum page.
However, because of what the research revealed in Already Gone, we realized the dire need to provide a solid, biblical curriculum for Sunday schools and small groups of all ages. And so, we embarked upon the long process of putting together a three-year study that covers the entire Bible. The end result will be Answers Bible Curriculum.
What sets this curriculum apart is that it provides a thorough understanding of the authority and teachings of Scripture. And it answers your questions. Everyone—from preschoolers to adults—will be equipped to defend the Bible and become conformed to the image of Christ as they apply God's Word in their everyday lives.
When can you get your hands on this new curriculum? Lord willing, we'll be rolling it out in mid-2012 for use next fall. Keep an eye on our special Answers Bible Curriculum mini-site for more information.
(Have a question for InSite? Let us know! Be sure to mention that your question is intended for InSite.)
Did You Know?
Did you know that our most popular article had over 230,000 views in 2011? In fact, that article, Dinosaurs and the Bible, continues to be popular year after year. Why not share it with someone you know? Of the articles published in the last twelve months, the timely Kicked Out of Two Homeschool Conferences reached the most computer and mobile screens.
About InSite