Special Event: Christmas Comes to Town
Last year, 22,000 people traveled back in time. They explored the streets of a first-century marketplace; they spoke with merchants, villagers, and Roman soldiers; they overheard dramatic stories of changed lives. And this year, you can take your own trip.
In this case, "going back in time" doesn't mean hopping on a time machine. Instead, you simply have to get out of your car, bundle up, and enjoy our free, annual Christmas Town experience at the Creation Museum (see our mini-site for dates and times and other details).
And when we say "experience," we mean it. You'll be greeted by over 60,000 Christmas lights that line the gardens in dazzling colors. You'll engage actors potraying life at the time Jesus was born. In our marketplace, you can get your hands on authentic oil lamps, pottery, scarves, purses, toys, and soaps while supplies last (given how many people came last year, you'll want to visit early).
But Christmas Town isn't just about the lights and bustling village. Guests also get the truth behind Christmas through live dramas. A Magi tells about why he came from a far-away land, and a familiar couple, Mary and Joseph, tells about the true hope of the world.
And that's just the outdoor events. If you need to warm up, head into the Creation Museum for three more exciting dramas about Elizabeth, Anna, and a temple guard waiting for the coming King.
When you get hungry, Noah's Café is ready with a turkey dinner (that one's not free, but only $6.49). After 5:00 PM, you can also tour the museum exhibits for only $5 per person, which is a present in itself. For astronomy buffs—and anyone who appreciates the glory of God displayed in the heavens—our hi-def planetarium will also be in the Christmas spirit with a special feature on the star that heralded the birth of Christ (tickets required).
So, while we don't have a DeLorean tricked out for time travel, we do have something even better: a chance to experience the true meaning of Christmas in a way that brings the past to you. Grab some family and friends, and take a trip to Christmas Town.
Charter your Course
While you won't be able to tour the full-size Ark we're building just yet (there's still much work to be done), you can reserve a lifetime spot on our modern-day re-creation. But you'll have to hurry. The door on this opportunity closes soon.
In Store: A New Christmas Tradition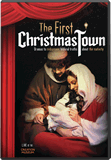 A night at Christmas Town doesn't need to end when you drive away. For those who want to share the experience (or for those who aren't able to make the trip to the Creation Museum), now you can bring Christmas Town to your home. You won't even have to figure out where to put all the villagers and animals.
Instead, you can relive the drama and splendor of the night by simply popping in The First Christmas Town DVD. Recorded live on location, this DVD passionately communicates both the obvious and the easily overlooked events of the first Christmas.
First, a modern-day archaeologist stresses the difference between the actual events and the traditions surrounding Christmas that have impacted how we think of this important event. (We have a free clip from this on our December front-page campaign.) Then, four different one-man performances communicate the emotions of those impacted by the birth of Christ: Mary's cousin Elizabeth, the old woman Anna at the temple, a magi who visited the toddler Jesus, and a temple guard whose life has been totally transformed.
But what makes this DVD a holiday tradition in the making is the powerful gospel message presented throughout. Make The First Christmas Town a centerpiece of your Christmas celebrations for years to come.
Question of the Month
Can you recommend a Christian college that stands upon the authority of God's Word?
Ever since the recent publication of Already Compromised, many Christians have been taking a closer look at colleges that claim to have a biblical foundation to their teaching. As the book revealed, things aren't what they seem in Christian academia.
To help future college students decide where to go, the AiG webteam developed a companion site for the book. When we debuted the site, we featured a handful of colleges that had signed a pledge for biblical authority. But we've added many more since then. Take a look and make sure you do your research.
But picking a college is only the first step. Then, you also have to go. Whether you attend a secular institution or a Christian one, you'll likely face many issues regarding your beliefs. And we want to help make sure that your faith is even stronger when you come out than when you went in.
If you missed it or want to review, take a look back at our Strengthening Your Faith in College web series. We talk about the real issues you face on campus—things like doubt, speaking up in science class, and being salt and light.
(Have a question for InSite? Let us know! Be sure to mention that your question is intended for InSite.)
Did You Know?
Did you know that we're finished? Don't worry. Our website isn't going anywhere, and we'll keep producing solid daily articles. What we mean is that our Biblical Authority Devotional has run its course—366 daily insights that deal with questions about God, the Bible, and Christian living. But they're not gone. You can go through them again and continue growing.
About InSite