A Traveling Physician
Last month in InSite, we featured the blog of a PhD scientist, wife, mother, and champion of God's Word, Dr. Georgia Purdom. This month we turn to a true Southerner, physician, husband, father, speaker, musician, photographer, and—most importantly—lover of Scripture.
Dr. Tommy Mitchell wants you to travel the country with him—from the Atlantic seaboard to the byways of Indiana—as he explains with wit and deep insight the reason for death and suffering, the truth about dinosaurs, the importance of Genesis, and more. He'll introduce you to some of the people he meets along the way—both supporters and skeptics—and share the amazing stories from the road. Here are just a few notes from his journeys:
There is something very special about being able to minister at the museum. It gives me a chance to meet so many people who support our ministry and believe in what we stand for. It is also an opportunity to interact with people who do not understand our message, or those who are openly hostile to the young-earth creationist position. [from "Museum Speaking"]
I just returned from a seven-day rafting trip down the Colorado River. It was terrific! This was my third trip to the Grand Canyon, and I must say it is the deepest hole a boy from Tennessee ought to ever find himself in. [from "In the Bottom of a Very Deep Hole!"]
I was able to speak once a day for the entire week, focusing on the core message of Answers in Genesis. That message is, of course, biblical authority. I was able to spend lots of time answering questions. Several people came to me and remarked that they were greatly encouraged that my messages were so evangelistic. They were thinking that the talks were going to be only about creation versus evolution. "You kept leading us back to Jesus!" was the sweetest comment of the week. [from "Away in Pennsylvania"]
Be sure to drop by Dr. Mitchell's blog for the latest adventures.
In Store: A Personal Look at the Effects of the Curse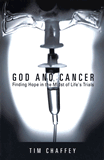 "You have leukemia." With those three words, Tim Chaffey's life changed forever on July 12, 2006. How could he, a Bible-believing Christian, deal not only with the physical ailments of cancer, but also the spiritual ramifications of suffering?
In this inspirational new book, God and Cancer, Tim draws on his battle with leukemia in an effort to provide hope, peace, and understanding for those who have been diagnosed, or have a loved one that has been diagnosed with cancer. This unique new book gives the biblical answer to the problem of suffering and evil and reveals from the Bible why Adam's fall is the only legitimate explanation.
This firsthand account from a cancer survivor provides an emotional look at the impact of a sin-cursed world—and the hope we have in our Savior.
God and Cancer is for anyone who has or is experiencing the dreadful impact of this painful plague or any other difficult trial that life has to offer. Dr. Tommy Mitchell authored the final chapter in this book to provide a doctor's perspective on this disease.
(Tim Chaffey has recently joined Answers in Genesis as an editor and writer for the web.)
Question of the Month
What's the best way to get my question answered on your Friday feedback article?
Every month, the Answers in Genesis family of sites welcomes quite a few visitors (see below for more). Most of them come looking for answers, and we thank God for the opportunity to witness and teach through the sites.
Although we strive to answer as many questions as possible, our numerous visitors—both supporters and detractors alike—are a creative group who think up dozens of great questions each day to email in about Scripture and science. And, put simply, there aren't enough of us to answer them all, which is why we're forced to select a few for inclusion on the site (note: we do answer as many emails—and phone questions—as possible, even if not featured on the site).
If you'd like to see your question used as an article, review our feedback rules for the basics. Next, understand that Answers in Genesis does not address certain topics, such as church denominational issues and other matters not involving biblical authority (for more, see Where Do We Draw the Line?).
Make sure, also, that you search through the article archives, feedback archives, and Get Answers section to see if we've answered the question before. We've covered quite a few topics, and you might surprised just how many over the years.
If you follow the guidelines laid out and cannot find the answer, then we certainly hope you will submit it. And we say this not only to Christians, but also to atheists and skeptics. We enjoy engaging original, respectful questions with a thoughtful response. So, if you have a skeptical friend or family member with a question you can't find an answer for, suggest they submit it to us.
The bottom line is that we tend to feature unique questions that deal with important matters of Scripture and biblical authority. So, keep your questions coming. We can't answer them all, but we try to be good stewards of the time and resources that God has given us as we choose questions to use on the website.
(Have a question for InSite? Let us know! Be sure to mention that your question is intended for InSite.)
Did You Know?
Did you know that, on average, nearly a million visitors come to the Answers in Genesis family of sites each month? In fact, some months see more than a million. Help us continue proclaiming the authority of Scripture by sharing our site with your family, friends, and social media contacts.
About InSite