Gearing up for Education
Early mornings, bus rides, reading assignments—for many people, these are some of the signs of August. Whether you're heading to school, starting back for homeschooling, or simply want to learn more, Answers in Genesis has a number of resources available to equip you no matter what type of learner (or teacher) you are.
Public Schools
Many people assume that Christianity cannot enter the public school doors, but this is not completely accurate. Students can get involved by starting creation clubs in their school, respectfully presenting the creation view in science class, writing creation-versus-evolution papers, and even sharing creation resources with friends and teachers. Parents can respectfully discuss the issue with teachers and administrators. And Christian public school teachers do have rights—despite the best efforts of evolutionists to censor all dissent.
Homeschooling
For parents who have chosen homeschooling for their children, we have a number of resources to help. On our site, you'll find several free online books that cover a variety of topics—from ancient Egypt to biology to astronomy. Our Education section also has a number of writing projects (including sample letters to the editor), advice on becoming a creation scientist, and more.
Finally, AiG strives to provide the best homeschool curricula that are biblically based, accurate, and up to date (see below for a special offer). You'll find resources to help you in your teaching goals from preschool up through high school.
College and Beyond
AiG wants our supporters to be lifelong learners, which is why we offer a number of resources for those heading to college and those who just want to explore the universe God created. Looking for a college? We've got information on what you should consider when choosing one, finding out what a Christian college believes about biblical authority (PDF), and surviving and thriving at a secular university.
Want to learn more from where you are? Besides the articles that AiG posts daily, we also offer a number of online courses on many topics. Sign up today for the instructor-based (college credit available) or . For those with limited time each day, we also offer a self-paced class, APO 111: Foundations in Creation Apologetics.
Whatever your educational goals or needs, we hope you'll take advantage of the resources that AiG provides.
What's in Store for this Month?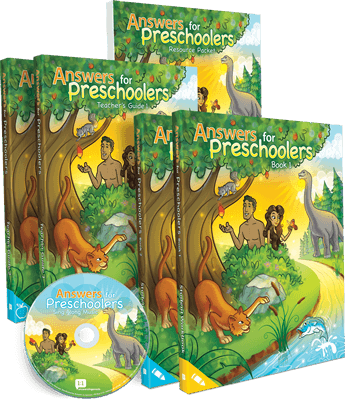 It's never too early to teach your children the truth of God's Word. Regardless of how your children will be educated—public school, private school, or at home—the foundation of their worldview begins at an early age.
For this reason, Answers in Genesis is pleased to present a curriculum for the youngest learners, our Answers for Preschoolers curriculum. This complete multi-subject curriculum for preschoolers and very early readers includes 180 fun, engaging, hands-on lessons that introduce children to the Bible, social studies, language arts, math, phonics, and science.
Like other preschool curricula, Answers for Preschoolers includes lots of fun activities, coloring pages, easy teacher-friendly ideas, and full-color illustrations. But unlike other preschool curricula, this one also affirms the truth of the Bible and uses Genesis as the basis to help children know God's love while exploring health and safety, music, arts and crafts, and even physical education activities.
Just for our InSite readers, especially parents and grandparents (or even aunts, uncles, and godparents), we're offering a special 10%-off discount on the Answers for Preschoolers curriculum. In fact, our entire curricula collection is 10% off when you use the coupon code NSITE809 with your online order in the U.S. store (expires August 31, 2009).
But you don't have to keep this a secret. Send this page to all the parents you know who want their children to have a solid foundation in God's Word by using the ShareThis widget at the top of the page or emailing the link to them.
Question of the Month
I'm interested in volunteering for AiG and the Creation Museum. How can I get involved?
Answers in Genesis is always in need of a good number of volunteers, and God has blessed us over the years with an abundance of eager supporters who have aided the ministry in reaching more people around the world. Here are just a few of the ways that you can get involved:
Volunteer your time and talents either on the front lines at the Creation Museum or behind the scenes in the Answers in Genesis offices. Whatever your skills, we are always grateful for the help. Find out more and sign up on the Creation Museum site.
Can you write fluently in a non-English language? If so, Answers WorldWide is actively seeking volunteers to translate or edit materials for hundreds of languages around the world. Consider donating your time to assist our efforts to reach all nations with the truth of God's Word.
AiG also keeps a list of items or services that the ministry needs. Perhaps you have one of these that you can "volunteer."
Finally, there are a number of paid staff positions available through the ministry on our job postings board. This list is updated regularly, so keep checking back.
We thank all our volunteers and workers. God continues to provide through the Body of Christ. We hope that you will consider using the gifts and abilities He has given you to work with AiG in proclaiming the gospel.
(Have a question for InSite? Let us know! Be sure to mention that your question is intended for InSite.)
Did You Know?
Did you know that Answers in Genesis operates over a dozen websites for a variety of needs? From kids to vacation adventurers, there are lots of ways to explore the world that God created. Take a look at our Family of Websites page to uncover just a few of the many sites we offer.
About InSite