A New Way to Navigate Our Sites
If you haven't noticed the change already, take a look at the very top of this web page: it's our new intersite menu for navigating between the most popular of the websites Answers in Genesis maintains.
Using the menu, you can quickly jump from the main Answers in Genesis site to the sites for the Creation Museum, Answers magazine, our Kids site, Answers Research Journal, and our International Outreach outreach site.
To read more, visit .
Feature of the Month
Over the last several months we've toured the popular Education section of the Answers in Genesis website, and now we've come to the final subsection: our Answers Education Online e-courses. We currently offer five online courses, with our most popular course—"Foundations in Creation Apologetics"—being offered in both instructor-based and self-paced variations.
The courses cost from $89 to $159, and those who pass can receive ACSI-accredited Continuing Education Units (CEUs) in Bible and other fields.
To learn more, visit our Answers Education Online page. Two classes—APO 101, "Foundations in Creation Apologetics," and APO 203, "Creation Apologetics and Geology"—will be starting soon, so don't wait to register!
What's in Store for this Month?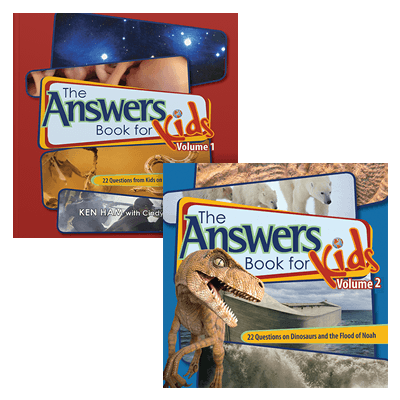 Most of our readers will of course be familiar with the New Answers Book 1 & 2, the best-selling creation apologetics books in the world. Separately or together, the books are fantastic resources for teens and adults alike who have questions about everything from dinosaurs to distant starlight to Darwin and more.
But what about children who likewise often have questions about origins, especially when Sunday school teaching stirs questions in eager young minds? Raising kids God's way includes teaching them from an early age why Christianity is real, defendable history. That's why Answers in Genesis has introduced the Answers Book for Kids series, four volumes for children 5–11 years old to answer their questions and ensure they think biblically from a young age.
The first two volumes are available now and the next two will be coming along soon. For more information and to order, visit the Answers Bookstore now!
Question of the Month
J.E. from North Carolina writes to ask:
I am emailing to inquire whether or not you have links to, or there are resources, by which I might learn more about the Tower of Babel and surrounding history. I am working on a novel dealing with Babel and would appreciate any information you are able to direct me to. I have the book The Puzzle of Ancient Man and found it helpful; but I am seeking to know more on the subject. Thanks in advance for any help!
You've got perfect timing, actually. We've just recently unlocked the "Tower of Babel" issue of Answers magazine, which has a number of articles about the tower. (To read about the issue itself, see Answers Magazine Preview: Vol. 3, No. 2. For a good starter article, see The World in Revolt.) You can also buy a hard copy of this issue, which includes beautiful artwork and layouts.
You can also visit our Get Answers: History page, which links to a number of other articles on human history (including the time period of Babel). And although you have a great resource in The Puzzle of Ancient Man, there are several other resources from our online store that may be useful on the topic of Babel specifically and ancient history in general. We can't guarantee that all of these will have exactly what you're looking for, but you can at least take a look at After the Flood, Adam and His Kin, "Babel Explains Our Differences" wall chart, Annals of the World/Chronology of the Old Testament, History Revealed: Ancient Civilizations & the Bible, and—last, but certainly not least—the iconic Genesis Record.
We hope that helps!
Stay tuned for next month's question, or ask one of your own!
Did You Know?
Among the thousands of articles and other pages on the Answers in Genesis website, we have links to nearly a quarter million other websites. The exact number, as of late last month, was 235,473! Many of these are news citations and links to other creation/Christian apologetics websites.
Don't worry, though—we haven't had personnel dutifully counting each link for the purposes of trivia! The count was done by computer instead.
About InSite