The ABCs of Sunday School
It's a trend that truly motivates us. Young people—even as young as elementary school—begin to question the truth of the Bible. When they don't get answers, their growing skepticism turns to disbelief, and many eventually abandon the church.
But, step by step, we can work together to reverse this trend. What started with the book Already Gone continues with a new Sunday school curriculum like nothing else. We call it Answers Bible Curriculum, and we think it'll shake up how you teach the Bible in your church. What do we mean by that? Well, no other Sunday school program so thoroughly equips believers to defend the truth of Scripture.
The key to this new curriculum is integration. Everyone gets involved. All age groups—from preschool to adults—cover the same basic topics in their classes or small groups at the same time. That means parents can talk to their kids about what they've learned. So, it's a great way to study together as a family.
Answers Bible Curriculum takes the whole church through a chronological study of God's Word. That way, you cover many "tough topics" and get answers to the daunting questions of our age. You'll hit on creation, evolution, the age of the earth, the Flood, the chronology of the Old Testament, supposed "contradictions," the life of Jesus, sin, death, and much more in this three-year course, which you can pre-order now.
That's a lot of material, but there's no need to feel overwhelmed. AiG worked closely with a respected group of Sunday school teachers who helped us put together the lessons. We relied on their experience to make sure the curriculum was easy to use. As a result, teachers get a detailed lesson plan with background information, teacher helps, and a detailed lesson to help them teach the content. (In other words, no need to be an expert.) There are also posters, flip charts, resource DVDs, to aid in learning in the classroom and take-home sheets and a devotional guide to help parents disciple their children at home. (Want to see what we mean? Take a look at the website for a few samples.)
There's a website dedicated to the curriculum to give you more information, including a video overview with Ken Ham. But, really, this is much bigger than just a website. Answers Bible Curriculum lays the foundation for a life of trusting the Bible. Children (and adults) need to know that God's Word is true from the very beginning. Our prayer—and goal—is to see generations transformed as students learn and families are equipped for real discipleship.
Let's work together to reverse the trend. That starts here.
The Ark is Coming
Recently, the Ark Encounter finalized the purchase of the last and largest piece of land needed for the project. That means the construction of a full-sized Noah's Ark is on course. We've still got a few VIP boarding passes left for families and individuals. So, help us set sail by joining in.
In Store: The Numbers of Bible History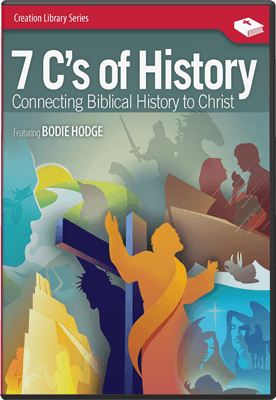 The Bible contains a wealth of material. From Creation to the Cross, you'll never run out of good stuff to study. You can always dig deeper, learn more, and grow as a follower of Christ. You'll never exhaust the Bible's riches, in other words.
That's a good thing. But what if you need an easy way to explain the big-picture history found in the Bible? How can you compress thousands of years of content into a simple presentation? By sticking to the numbers.
We like to call it the 7 C's of History, and it's a way to help you lock in the major events of the Bible and understand how each points to Christ. In the new DVD 7 C's of History: Connecting Biblical History to Christ, apologist Bodie Hodge reveals the importance of understanding history in light of the gospel.
So, what are the seven big events? Here's an overview:
Creation: God created in six days, and everything was perfect. Then He rested for a day.
Corruption: Adam fell from perfection because of sin.
Catastrophe: God judged the world with Noah's Flood, which is the origin of most fossil layers.
Confusion: The rebellion at Babel is key to understanding the world today.
Christ: The Creator became a man, our "Kinsman Redeemer."
Cross: Christ died and rose again to show He has conquered death.
Consummation: Christ will return to establish a new heavens and earth.
Bodie guides you through each one and how it impacts our worldview. You'll learn how to tackle the big questions and how to answer some common objections. So, grab either the DVD or the digital download, and you'll see that learning the history found in Scripture is as easy as 1-2-3 (well, make that 7).
Question of the Month
Ken Ham gave a lesson on the 7 C's [of History]. Where can I find it on the website?
Talk about perfect timing! As we mentioned above, we just released a talk by Bodie Hodge that deals with this very topic. You can download it right now for a refresher. But if you'd prefer something to read or print, we've got a few resources on our site that should help.
First up, we've got a free PDF booklet from Ken Ham and Stacia McKeever that guides your study through each of the C's. It also explains how our world-famous Creation Museum ties in with this approach to biblical history.
If you don't like PDFs, you can dig into a free online chapter from our New Answers Book 2. The chapter, called What Is a Biblical Worldview? (also by Stacia and Ken), explains how the 7 C's tie in with a biblical worldview. There are plenty of links to Scripture that show what we mean.
Reaching farther back, you can take a look at a chapter from Ken's classic book Why Won't They Listen? While The Seven Cs is not designed as an in-depth discussion of the events, it does explain how they help us teach the Bible to a skeptical world.
And if you're hoping to use this approach in your evangelism, we have an innovative tool that could help. The 7 C's Creation Evangelism Cube takes the listener through each of the main events in history and leads them to Christ.
(Have a question for InSite? Let us know! Be sure to mention that your question is intended for InSite.)
Did You Know?
Did you know that our Kids Answers site continues to grow? In fact, the article How Do We Know Other Religions Aren't True? has already made a huge splash this year. If you haven't already (or haven't in a while), head over to Kids Answers for games, puzzles, videos, posters, and—most importantly—answers to your kids' questions.
About InSite