Answers in Genesis–US has hit two milestones.
First, 27 December 2003 marks the 10th anniversary of the founding of Answers in Genesis in the United States, an event celebrated recently by AiG-US staff members before they broke for the Christmas holidays.1
At the gathering, ten years of God's blessings were recounted by AiG-US president Ken Ham, who announced to the staff that AiG had just met another milestone: $10 million in donations have now been raised for the construction of the Creation Museum, the Bible-upholding center being built in Northern Kentucky (close to Cincinnati, Ohio). The 95,000-square-foot museum and new headquarters are being built as donations come in from faithful AiG supporters worldwide.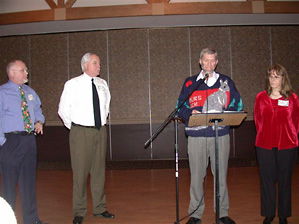 The four original AiG-US employees—left to right: VPs Mike Zovath and Mark Looy, AiG-US president Ken Ham, and event manager Mary Carmack—were acknowledged at AiG's Christmas party for ten years of service.
Following our theme of "10," here is a list of 10 things for which we most praise the Lord as we reflect on ten years of outreach. God has allowed AiG to:
Host one of the most-visited Christian websites in the world, with up to 34,000 visitors a day!

Expand its radio outreach to almost 700 stations worldwide that are carrying the Answers … with Ken Ham radio program.

Develop a network of speakers to present the life-changing creation/gospel message at various venues each year, in the US and overseas.

Produce several faith-building resources like the groundbreaking books Refuting Evolution and One Blood—the Biblical Answer to Racism … and many more excellent resources, and to see Creation magazine sent to subscribers in 140 countries.

Receive countless testimonies from people whose lives have been touched by God as He uses AiG's outreaches; these include numerous salvation testimonies.

Help revitalize churches and challenge Christian leaders in their thinking about God's Word, and its authority/accuracy.

Translate and distribute several evangelistic materials in 16 languages (and 16 languages to come).

Host national and international conferences to equip Christian leaders and laypersons to proclaim the importance of the creation/gospel to the world (e.g. the large Creation 2003 conference last May).

Hire some exceptionally talented artists to help design and build first-class exhibits for the future Creation Museum. [See Creative Designer Honors the Creator.]

Conduct creation/evolution debates (including one at Harvard), be exhibitors at the National Education Association (NEA) annual conference (distributing over 100,000 free materials over the years to its largely humanistic teachers) and conduct other outreaches to the "secular," academic world.
As 2003 concludes, please pray with us that God will prompt His people to support the various AiG offices worldwide2 so that the year will not only end "in the black" financially, but will also have additional funds to launch additional vital outreaches in 2004.