Recently, a number of articles in the mainstream media, on blogs, and on well-known secularist group websites have attempted to spread propaganda to brainwash the public into thinking our Ark Encounter attraction is a dismal failure. Sadly, they are influencing business investors and others in such a negative way that they may prevent Grant County, Kentucky, from achieving the economic recovery that its officials and residents have been seeking.
Nowadays, it seems very few reporters in the secular media actually want to report facts regarding what they cover as news.
In one sense, such negative, misleading, and outright false reporting doesn't worry me. As Christians, we know we will receive opposition like this—and after 40 years in Bible-upholding ministry, I have become used to such antics by those who oppose us. Nowadays, it seems very few reporters in the secular media actually want to report facts regarding what they cover as news. When it comes to reporting on theologically conservative Christians like those of us at AiG, whose ideology they strongly oppose, many writers have an agenda to undermine Christianity as they file their stories.
I've found that not only do these kinds of reporters generally do very poor or lazy research, they will actually make things up for their agenda purposes. They often just quote others, who themselves have quoted yet others, who have quoted even yet others. Urban legends have now been created around our life-size Noah's Ark, mixing misleading and untrue statements gathered from a variety of sources, often not using primary sources but hearsay.
A Recent Case in Point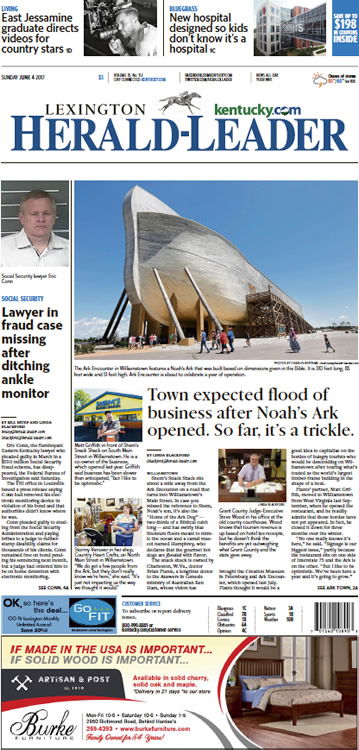 Let me give you a recent example. Reporter Linda Blackford wrote a recent front-page article on the Ark Encounter for the secular newspaper the Lexington Herald Leader of Kentucky (the state's second largest paper). Her article was titled "Town Expected Flood of Business after Noah's Ark Opened. So Far, It's a Trickle."1
After reading that headline and then her article, I was convinced that she (and probably her editor) had an agenda even before she began her research and writing. She was determined to convince readers that the Ark Encounter wasn't successful and that it hadn't had much of a positive economic impact or created jobs in Grant County. As she ignored overwhelming evidence to the contrary, the reporter misquoted the few people she did interview and deliberately wrote an article that hid the whole truth about the tremendous economic impact that the Ark Encounter has had on all of Northern Kentucky. Her motivation? Well, because her newspaper has been known for antagonism toward anything Christian, and AiG has experienced this agenda from the paper over the years, what's occurred here is yet another example of its anti-Christian bias.
Let me document just a few mistakes made by reporter Linda Blackford. It is another warning to us all that we increasingly can't trust the secular media and should fact check anything they publish about Christian matters and other topics.
Shem's Snack Shack
In regard to a great restaurant that specializes in gourmet hot dogs, Shem's Snack Shack, she writes,
Matt Griffith . . . moved to Williamstown from West Virginia last September, when he opened the restaurant, and he readily admits that those hordes have not yet appeared. In fact, he closed it down for three months over the winter.
Now, we contacted Matt, who stated in an email to me,
Very interesting that she put that "we closed down," because that was something she asked me about. I explained it was due to the sewer lines needing replaced. So I guess she somewhat skewed what I said.
She certainly did—she conveniently left out that bit of information in her article. It totally skewed her piece and hid the whole truth.
Gallery Coffee Shop
Regarding another business in the county, Ms. Blackford wrote,
But Bren Murphy, owner of the Gallery Coffee Shop on Main Street, said tourists like coffee and pastries just as much as anyone else. They just don't get to her shop. "The Ark's growth is great for their success," Murphy said. "But until we see some of that here, it's really not done as well as we hoped."
However, after Ms. Blackford's article was published, Bren wrote on her Facebook page,
Also, I do get visitors from the Ark daily . . . contrary to how the "quote" was presented. Since opening in October 2016 I have had a wonderful flow of visitors with approx 4% of my recorded sales being from Ark Visitors. This is NOT the ARK'S fault . . . this is NOT the cities fault. . . . it IS ALL OF OUR faults for not doing what is necessary to make the RIGHT NOW changes that need to be made so that everyone wins. . . . Thanks to the local community and others who have made it possible for me to say that I have been blessed since opening and know that thanks to God and the wisdom of being a strong business owner/leader, that a year from now that number will be unimaginably greater!
Once again, Ms. Blackford conveniently left out information that would make the Ark look successful!
City of Dry Ridge
Our publicist and AiG's CCO Mark Looy strongly urged Ms. Blackford (after she contacted our publicist about her intended article) to interview the mayor of Dry Ridge—a city just north of Williamstown that has been booming as a result of the Ark Encounter. Here is what the reporter stated in her article:
Dry Ridge Mayor Jim Wells said he's working on two local TIF (tax increment financing2) projects that will bring two more hotels and some restaurants. The Ark "has been great for us," Wells said.
This positive quote, which really better summarizes the economic impact of the Ark on the county, was buried toward the end of the Herald-Leader piece. The mayor's quotes were from a few months before; the reporter has not spoken to him recently even after we urged her to do so in order to get an even more current and accurate report of the Ark's impact.
Mayor Wells shared the following details with me recently that would have helped the reporter present a fair assessment of the tremendous economic influence the Ark Encounter has had:
Because of the Ark opening, planning is underway for three new hotels and three new restaurants in Dry Ridge. Construction on the first hotel will begin soon. Also, LaRosa's Pizza expanded because of Ark tourist business and even has one room themed as an Ark room. Locals have found that they now find it difficult to get into restaurants like Cracker Barrel as they are so crowded from Ark tourists.

The hotels that already exist in Dry Ridge have an occupancy rate of 98% and are booked months in advance with Ark tourists—which is beyond outstanding!
I urge you to watch this interview with Mayor Wells that appeared recently on a news website for more about the Ark and Grant County.
Two Pizza Restaurants
In her article, Ms. Blackford quoted a local pizza owner:
"It's been great for us. I would say we average three to five people a day from the Ark," he said. "When they're done with the Ark, they still want something to drink."
Now, I'm pleased for this owner and trust he gets even more customers in the future. The reporter used the quote of only three to five Ark visitors a day coming to his restaurant to make it sound like hardly any of his customers were Ark tourists. But the pizza business isn't located in the main area that our Ark tourists frequent. Now, had she gone to LaRosa's Pizza in Dry Ridge, just up the interstate from the Ark, the reporter would have seen an Ark-themed room booming with Ark tourists. But of course, the reporter had an agenda and didn't want an article that sounded like Ark tourism was quite strong—which it is.
"Tax Breaks"
Now, I could go through the rest of the Herald-Leader article and continue to document the misquotes, untruths, and skewed information. For instance, here is how the reporter wrote about the supposed "tax breaks" for the Ark. The so-called "tax break" is the tourism tax incentive the Ark Encounter qualified for and was granted by the state. The Ark Encounter will receive (in the future!) a percentage rebate on sales tax generated within the Ark Encounter, which is new money we generate. The amount of the rebate is based on our initial capital expenditure. This future money had nothing to do with completing the Ark. It is a future rebate to be received each year for 10 years. The construction of the Ark was totally privately funded (donations and bonds).
Influx of Tourists
Ms. Blackford also failed to mention that Answers in Genesis recently received the 2016 Star of Tourism award from the Northern Kentucky Convention and Visitors Bureau. We got the award because of the phenomenal economic impact on tourism in the region due to the Ark (and the Creation Museum).
The reporter also failed to report on hotel occupancy rates in Northern Kentucky, which is a major barometer of any attraction's success. Many hotels are at an all-time occupancy high because of Ark visitors. She failed to mention other factors that clearly show the enormous positive impact the Ark has had on Grant County and other nearby counties.
If an AiG writer or researcher was responsible for such a poorly researched piece, filled with misinformation and misquotes, they would no longer be working with us.
Intolerant Atheists
The Herald-Leader isn't the only secular media outlet spreading such maligning anti-AiG propaganda. Many secular bloggers and organizations like the Freedom From Religion Foundation and Americans United for Separation of Church and State have produced videos and/or printed articles filled with misinformation and deliberate falsehoods in their attempt to hide the truth about the success of the Ark.
Many articles, for example, have actually stated that the city of Williamstown, where the Ark is located, is liable for the $62 million dollar bond offering that was part of the funding for the Ark. That's simply a lie. Answers in Genesis is totally liable for that bond offering, which states:
The Series 2013 Bonds shall not be general obligations of the Issuer but special and limited obligations payable solely from the amounts payable under the loan agreement and from funds and property pledged pursuant to the indenture. The Series 2013 Bonds and the interest payable thereon do not now and shall never constitute indebtedness of the Issuer or the Commonwealth of Kentucky within the meaning of the Constitution or the Statutes of the Commonwealth, and neither the Issuer, the Commonwealth of Kentucky nor any political subdivision thereof shall be liable for the payment of the principal of, premium, if any, or interest on the Series 2013 Bonds or for the performance of any pledge, mortgage, obligation or agreement created by or arising under the indenture or the Series 2013 Bonds from any property other than the trust estate. Neither the faith and credit nor the taxing power of the Issuer, the Commonwealth of Kentucky or any political subdivision thereof is pledged to the payment of the principal of, premium, if any, or interest on the Series 2013 Bonds.3
Yes, the bonds were issued through the city, but the city is not responsible for one cent of this offering. Some articles even say the bond offering is part of the TIF—which is simply ridiculous! The amount of misinformation and outright lies about the Ark project is staggering.
The amount of misinformation and outright lies about the Ark project is staggering.
Why so many lies and misinformation? Simply because we are in a spiritual battle, and the intolerant secularists are so upset with such world-class attraction like the Ark (and Creation Museum) that publicly proclaim a Christian message. They will resort to whatever tactics they deem necessary to try to malign the attractions.
Of course, negative reporting and commentary result in more advertising for our facilities! As I witness all this opposition and see such opposition backfiring, I am reminded again of what Joseph declared and how it applies to us today:
As for you, you meant evil against me, but God meant it for good, to bring it about that many people should be kept alive, as they are today. (Genesis 50:20)
Our Letter to the Editor
Here is what AiG submitted to the Lexington Herald-Leader (published June 9, 2017) as our short rebuttal to its terrible article with many misrepresentations, recognizing that there is a word limit for submissions to the paper:
Editor:

If a Christian medical doctor at a Baptist hospital in Lexington found a cure for cancer that saved the lives of 9 out of 10 patients, the headline in the Herald-Leader next morning might read: "Baptist Doctor Fails to Heal All Cancer Patients." That's the kind of approach this paper recently took (June 3) when it attempted to dismiss the undeniable positive economic impact that our Bible-themed attraction, the Ark Encounter, has had on the region. The paper's editorial bias against biblical Christianity has once again reared its head.

By not citing government statistics, a major tourism award, and business leaders that can attest to the tremendous economic benefits that our tourist attraction has had on the region, this paper decided instead to focus on one small city—that has few tourist amenities—to engage in yet another attack on the Ark.

It was laughable to read how the unfortunate failure of a furniture store in that town was connected to the Ark's supposed lack of economic impact. Now, how many Herald-Leader readers make sure to buy furniture when they visit Disneyworld in Orlando?

Ultimately, such articles are counterproductive. They undermine the efforts of Grant County and the state to spur business and create jobs.

We are aware of a prestigious builder in Northern Kentucky who is reluctant to construct hotels in the region because he has heard, apparently through the media, that the Ark is supposedly not successful.

The Ark Encounter could accommodate more than 8,000 people a day (our record day) and generate more revenue for the county and state if not for the lack of hotels, not furniture stores.

We're thrilled with attendance. The Ark welcomed 6,500 guests last Saturday, and the busy part of the tourist season is still to come. Owners of tourist-related businesses in Northern Kentucky are ecstatic. But you might never know of the Ark's exceptional economic impact because of the paper's ongoing antipathy toward Christianity.

Citizens of Grant County should be up in arms about this article. As they finally see their economy growing (Dry Ridge, just north of the Ark, is booming because it has many amenities that cater to tourists), residents should be upset that this paper's unfair coverage may hinder development and job creation.

Sincerely,
Ken Ham
CEO/President
Answers in Genesis/Ark Encounter4