We are eagerly approaching what I believe will be a historic moment in Christendom. It's the opening of one of the greatest Christian outreaches of our era: the life-size Noah's Ark in Northern Kentucky.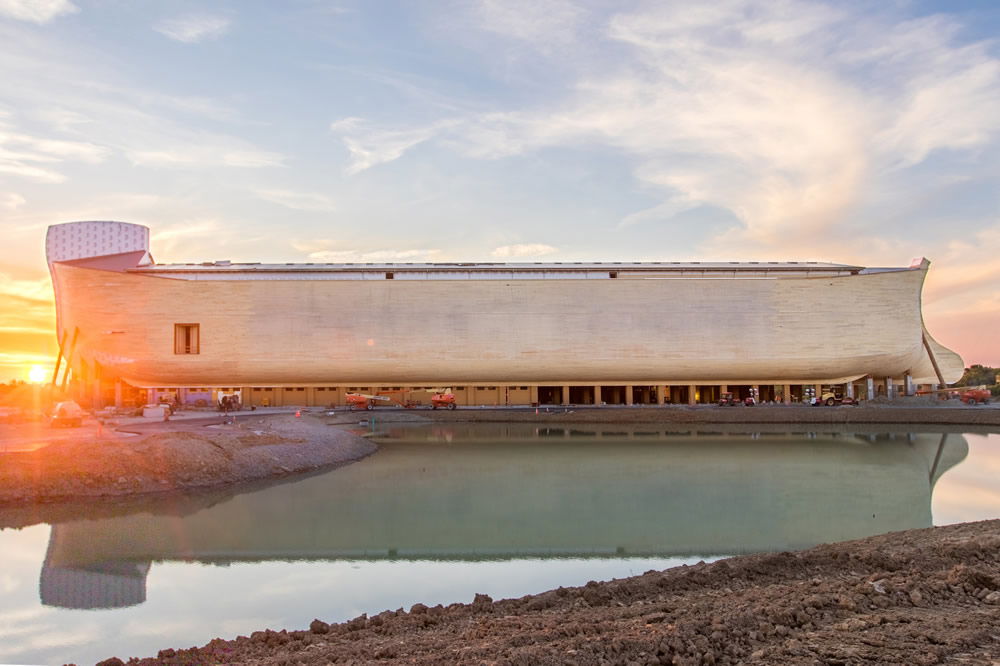 As I read many of the secularist attacks on the building of the Ark (and occasional criticisms from self-described Christians), I see one theme coming up over and over again: our motive!
Most secularists, who are in rebellion against God, just can't get their head around why we would build a replica of this massive wooden ship as described in the Bible. Many claim we must be doing it for the money!
Well, those of you who know Answers in Genesis understand that, while money is certainly needed to build and then maintain such a massive project and to construct future phases, money is not our motive in the slightest degree.
Some critics who say they are Christians declare that we're building an idol, supposedly because we are worshipping the Bible and not God! (We were even accused of that bizarre claim when building the Creation Museum.)
Of course, anyone who has visited the museum (and the same will be true for the life-size Ark) understands that this Bible-upholding center is not an idol in any way. The museum and Ark direct people to the Word of God and the gospel of Jesus Christ.
Others have accused us of building the Ark out of pride, claiming we just want to build something for the sake of getting our name in the news! Amazing!
What is our real motive for building themed attractions like the Creation Museum and now the Ark Encounter?
But what is our real motive for building themed attractions like the Creation Museum and now the Ark Encounter? Let me answer with this background.
A number of years ago in Australia, my wife Mally and I attended the commencement ceremony held at a secular university as one of our family members was graduating. A local judge gave the commencement address. Her speech went something like this: "Students, you are graduating from university. You're thinking of your future. Eventually you will die. So what do you do until you're dead?"
At this point, I turned to Mally and said, "Wow, this is going to be a message of hope and encouragement!"
Well, the judge went on to say, "In my life, there were books that greatly influenced my life." She named Zen and the Art of Motorcycle Maintenance and The Hitchhiker's Guide to the Galaxy (where a computer came up with the meaning of life as the number 42). The judge explained how these books influenced her life. She then encouraged students to find what would influence their lives to be impactful until they are dead!
She then sat down to a standing ovation by the faculty!
I turned again to Mally and said, "If I were a student, I would feel compelled to jump off a cliff right now and get life over and done with." What a message of meaninglessness, hopelessness, and purposelessness she offered.
As a Christian, doesn't a speech like that make you just want to stand up and declare to the audience that there is a message of real hope—not only for this life, but for eternity?"
What the judge presented was the ultimate message of the world. And sadly, it is being given daily to millions of students in public schools, universities, and through most of the media and the entertainment industry! Doesn't your heart ache when you think about this hopelessness? No wonder the suicide rate is rising in America. No wonder younger generations turn to sex and drugs.
I remember saying to Mally after the commencement speech, "I wish we had a way to get the Bible's teaching of the hope of the gospel to these students. How can we get out the message of truth concerning God's Word and our hope in Christ to this lost world?"
And really, what I shared that day with Mally sums up our motive! You see, every human being is one of our family—we're all related going back to Noah (and then back to Adam). We're all sinners in need of salvation. We're all under the judgment of death. But God reminds us:
The Lord is . . . not willing that any should perish but that all should come to repentance. (2 Peter 3:9)
That if you confess with your mouth the Lord Jesus and believe in your heart that God has raised Him from the dead, you will be saved. (Romans 10:9)
Our real motive for building the Creation Museum, and now the Ark, can be summed up in these verses:
Go into all the world and preach the gospel to every creature. (Mark 16:15)
Go therefore and make disciples of all the nations. (Matthew 28:19)
But sanctify the Lord God in your hearts, and always be ready to give a defense to everyone who asks you a reason for the hope that is in you, with meekness and fear. (1 Peter 3:15)
Contend earnestly for the faith. (Jude 3)
Do business till I come. (Luke 19:13)
Yes, our motive is to do the King's business until He comes. And that means preaching the gospel and defending the faith, so that we can reach as many souls as we can with the greatest message of purpose, hope, and meaning—that even though we rebelled against our Creator, He provided a way as a free gift so we can spend eternity with Him.
Oh, how we want to see as many as possible receive this free gift of salvation!
I can't even describe how I feel right now as we anticipate the Ark's opening next week and contemplate that millions of souls will hear the most important message of all—not one of hopelessness from a human judge, but a message of hope from the holy, righteous Judge who, despite our sin, wants us to spend eternity with Him! Wow! Now that's a motive to build an Ark.
An amazing amount of work has been accomplished. The construction workers and our exhibit team continue with great effort and commitment towards the grand opening on July 7. Please be in prayer for them as they will be working very long hours over this next week to get the Ark ready for opening.
We need your prayers and support in this final week before we open the park's doors to millions of guests who will learn the truth of God's Word and its life-changing gospel message.