Don't Miss Out on Our COVID-19 Special
Learn how to be a creation apologist during this time in the culture.
OUR COVID19 SPECIAL
Because this amazing offer has been in such high demand and because of the continued impacts of the COVID situation on families throughout the country, we have decided to extend the expiration date to December 31, 2020. We don't want you to miss out!
We know there is considerable financial stress in the culture right now. These six self-teaching apologetics courses from Answers in Genesis that are normally $49 each are combined in one course for only $19 ($294 value).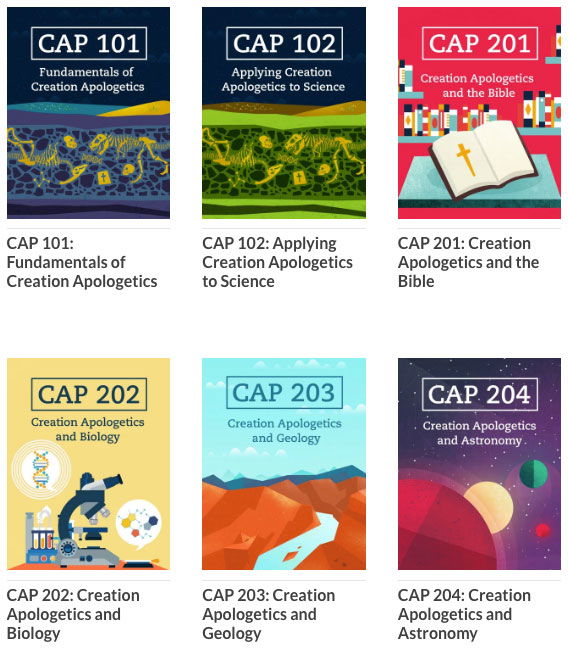 Creation Apologetics Master Class

Includes all six courses, suitable for High School through adult . You will acquire a solid understanding of creation apologetics, equipping you to stand strong in your faith, think biblically, and more effectively share the gospel with others.
Six self-teaching courses
Normally $49 each ($294 value)
Only available through the US online store.
$
19
.
00
Course Overview
Topics (43 Lessons)
The relevance of creation to the gospel
The incompatibility of evolution and the Bible
Biblical and scientific support for a recent, six-day creation
How to use logic to defend your faith
Compromise in Christian doctrine
Implications of death before sin
The relationship between Genesis and the rest of the Bible
The 7 C's of biblical history
And many more!
Activities
Online videos
Reading assignments that will engage and equip you
Goals and Outcomes
Upon completing the course, students will be able to:
State reasons for a literal interpretation of the Genesis account of Creation.
State why an evolutionary worldview is inconsistent with the teachings of the Bible.
Use principles of logic to expose and avoid invalid arguments.
State the importance of sin preceding death.
Explain inconsistencies in compromise theories such as the gap theory, progressive creationism, and theistic evolution.
Use other passages from the Bible to confirm the Genesis account of creation and Genesis as literal history.
Answer questions from skeptics on biblical authority and scientific validity of biblical creation.
Defend the authority of the Bible.
Be ready to give a defense for the hope of eternal life found in Jesus Christ alone.
Share the gospel with confidence.
Expectations
Students should expect to spend 4–6 hours per lesson watching the videos and reading the articles. Complete the coursework at your own pace (through December 2022).
FAQ
How long will I have access to the courses?
You will have access to the course through December 2022.
After placing my order, how will I receive my enrollment key?
Your enrollment key will be emailed to you within a few business days.
Can I share access with a family member?
Anyone in your family is welcome to watch the videos and share the same login information.
Can I earn CEUs for this course?
No, we are unable to offer CEUs for the Covid-special Master Class multi-course package. Courses must be taken separately to qualify for the CEU option.
I don't understand a lesson and/or quiz. Can you please explain further?
We are sorry, but we are not able to offer feedback on specific questions or concepts for this course. The course is a self-learning platform and is not supported by an instructor. We are also unable to provide certificates of completion with this Master Class version of the course.
Can I use this course for homeschooling?
Yes, but if you want to break up the lessons into smaller learning sections you will have to use the individual quiz grades to calculate a grade for each section. There are six class divisions within the 43 lessons. The course is set up to only give a final grade at the end. If you want to use the course for multiple students, we suggest that you purchase a separate course for each student to allow the quizzes to be taken and graded separately.