Drs. Purdom and Rivera are responsible for designing many of the wonderful programs, workshops, and other educational activities we offer here at the Creation Museum. But the potential usefulness of the AAM meeting was completely eclipsed by the "virtue signaling" and political correctness of the organizers.
One of the first things Georgia and Jennifer noticed when they arrived were the signs posted outside the restrooms.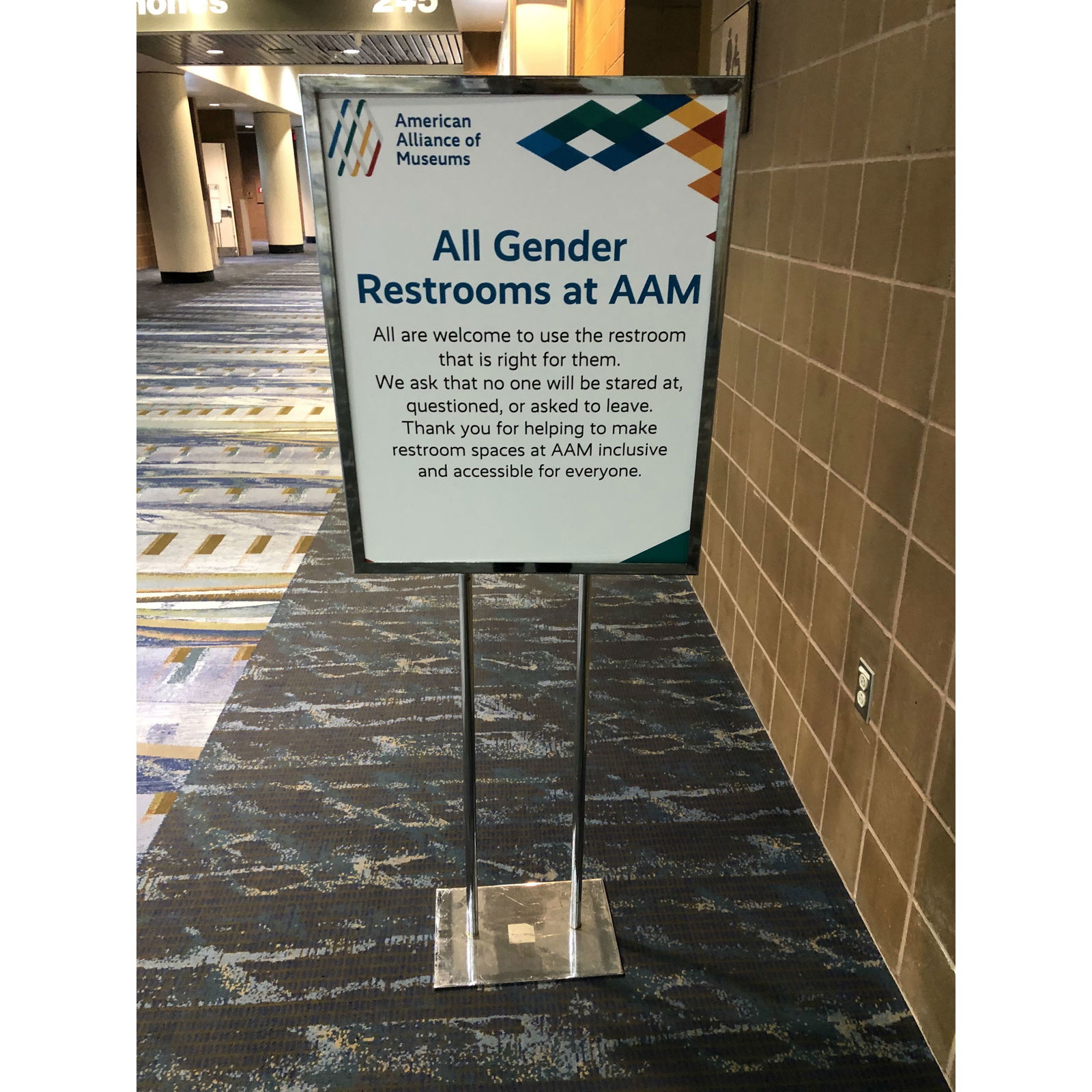 As you can see, the AAM invited everyone to use whichever restroom facility they wanted. Now, that view is anti-science, anti-genetics, anti-biology, and anti the truth about male and female. Jennifer said that, because the lines to the women's restroom were long, several women left the line and used the men's restrooms since the signs invited them to use whichever restroom they wanted. This is probably not what the organizers had in mind!
In a further denial that we've been created male and female (Genesis 1:27), the convention featured ribbon stickers for attendees to attach to their name tags if they so chose. These stickers announced one's preferred pronoun, and they came in three options: he/him/his, she/her/hers, and fill in the blank for whatever pronoun they preferred.
During some of the presentations, the slides even showed the speakers' preferred pronouns. Notice the pronoun choices of the individual in the far right-hand corner—"she/her/his." If not a typo, I'm not even sure what that is supposed to mean!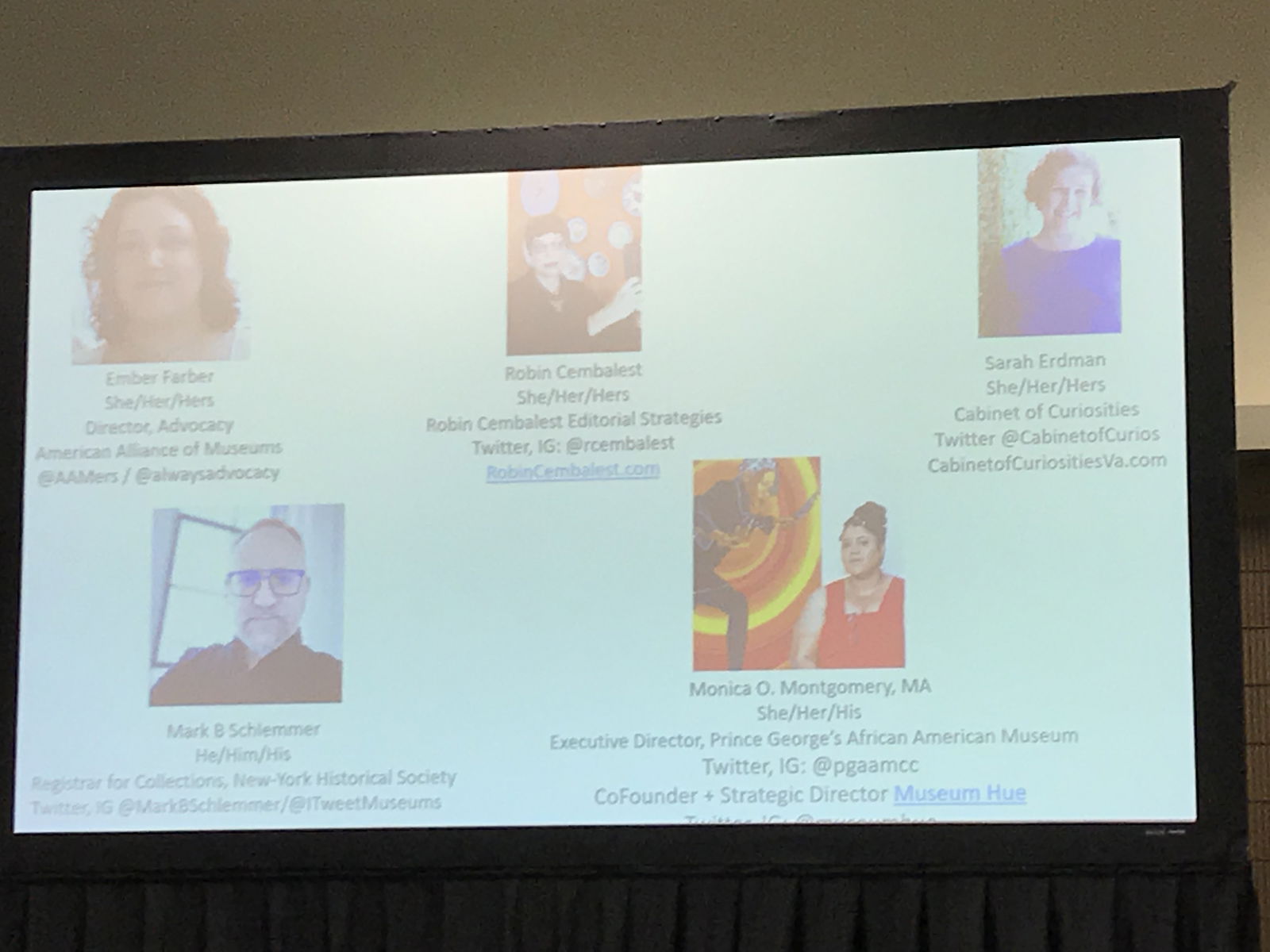 Clearly, the AAM wants to be seen first and foremost as an LGBTQIA+ ally. But, really, it's an outright denial of biological and biblical reality—we're created male and female.
Clearly, the AAM wants to be seen first and foremost as an LGBTQIA+ ally. But, really, it's an outright denial of biological and biblical reality—we're created male and female. A denial of this truth leads to confusion and chaos, as was exhibited throughout the convention.
It's interesting that the AAM was being very cautious not to offend anyone and to come across as welcoming, tolerant, and accepting to everyone . . . except for Christians or others who believe that we're created male and female. They don't care if they offend or isolate Christians, a trend we increasingly see in a culture that claims to be tolerant. What we see is that they are only tolerant of views that agree with theirs! It makes you wonder how many museums that belong to AAM have policies and teaching that align with these secular, unbiblical views.
This kind of "virtue signaling" (publicly expressing one's "moral correctness," as perceived by the secular culture) and political correctness is only going to become more common as our culture gets further from biblical truth. A small but very vocal minority, the LGBTQ activists, are driving much of the culture in the West.
As Christians, we must not fall into this kind of thinking. We live to please God, not man (Acts 5:29). And his authoritative Word is clear on this issue—We're created by God male and female (Genesis 1:27). It should make us all very thankful for the Creation Museum and its proclamation of the truth of God's Word.
So really, this conference turned out to be a gathering not primarily about museum programs and workshops, but the AAM allowed it to be an LGBTQ agenda-driven conference disguised as a museum conference.
Get More Answers on Answers News
I discussed this item today on Answers News with cohosts Dr. Georgia Purdom and Bodie Hodge. Answers News is our twice-weekly news program filmed live before a studio audience here at the Creation Museum and broadcast on my Facebook page and the Answers in Genesis Facebook page. We also covered the following intriguing topics:
Will Martians evolve?
Men can have babies . . . or can they?
The story of how humans lost their tails
And more!
Be sure to join us each Monday and Thursday at 2 p.m. (EDT) on my Facebook page or the Answers in Genesis Facebook page for Answers News. You won't want to miss this unique news program that gives science and culture news from a distinctly biblical and Christian perspective.
Thanks for stopping by and thanks for praying,
Ken
This item was written with the assistance of AiG's research team.