On December 2 we actually had a morning off, and I got to play tourist. We drove along the north coast of Northern Ireland and ended at the Giant's Causeway. It was very windy and cold that day, but we all had a great time. I had lots of time there to be educated about how many million years it took for these formations to form. Fascinating.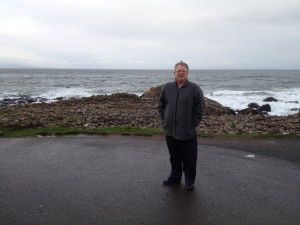 That night I spoke at the Old Courthouse in Markethill. This talk was open to the public, and even though the weather was terrible, the folks who attended were enthusiastic about the message.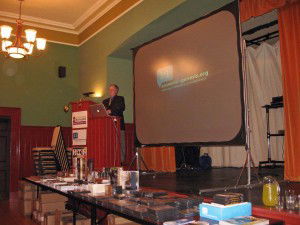 The only problem with the Markethill event was that I managed to fall down a stairwell. I was trying to adjust the volume on the PA system, and I stepped past a ledge and fell. The next day I was very sore, but luckily I suffered no permanent damage (except perhaps to my pride).
Saturday found me in a living room with nine young people having a question and answer apologetics session. They had lots of questions, and I tried to provide them with lots of answers. After we finished I bought each of these young people a copy of Dr. Jason Lisle's book Ultimate Proof of Creation (which they all promised to read).
Saturday night was to be a planned night off, but as usual, that changed. We got word from a church in Magherafelt that their young people's group wanted us to come and speak. This youth group had gotten a copy of the UK Answers Update newsletter and noticed that my Saturday night appeared open. They begged the pastor to call and ask if I could come to their meeting. I was told that they were planning on showing a Ken Han video that night, but hoped they could get me instead. Well, when I heard these poor young people might be stuck with Ken Ham, there was only one thing for me to do. We drove for an hour and half and met with them. The usual attendance for the meeting is 20, but there were over 60 at the meeting! It was a genuine blessing to meet them. They obviously love AiG!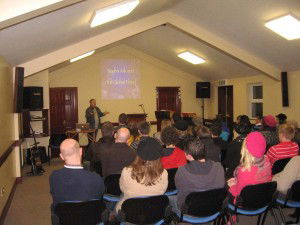 Our final day of ministry was Sunday, December 4. I spoke at a home church in the morning and traveled to Ballygowan for the evening. The two sessions that night completed our UK tour.
I don't remember ever being this tired, but at the same time there was tremendous ministry done over the course of our time in Northern Ireland. We drove for hours every day, and I felt like we were constantly loading and unload the resources from the van. We got up early and went to bed late, but I would not change a minute of it.
The Lord really blessed in Northern Ireland.