This last weekend we started a series of engagements at Maysville Baptist Church in Maysville, Georgia. Answers in Genesis will be speaking at this church for five consecutive Sundays. I had the honor of giving the first of the five sessions, and I will be returning in a month to do the closing session.
One young man ran up to me after I finished my presentation and said excitedly, "This stuff is great; how can I learn all those answers?" He told me (as so many young people do) that he is being taught evolution in school. He sincerely wanted to defend his faith but said he didn't know how. I pray that what he heard at the conference will continue to motivate him.
Here is a photo from Maysville Baptist Church.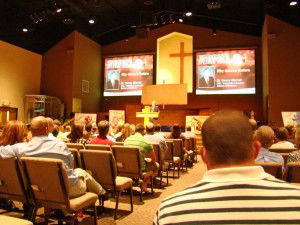 In the evening I traveled to Blairsville, Georgia, and spoke at the First Baptist Church. The congregation of Harmony Grove joined us at this session, and we all had a wonderful time of fellowship. I gave my presentation "A God of Suffering?" to a packed auditorium. Several people spoke to me afterward about how they were blessed by what they heard. They had all dealt with tragedy in their lives but had never been able to explain or understand how a loving God could allow these things.
This is a photo of me speaking at Blairsville.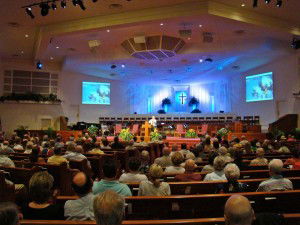 On Monday, Lillian Cash interviewed me on WRAF radio. This very entertaining lady is a huge fan of Answers in Genesis, and we had a lively discussion for about an hour. I will be on her program again in late July when I finish the conference.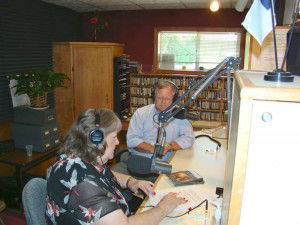 I'll be home for the Fourth of July weekend and then off to Pennsylvania. Keep on praying!