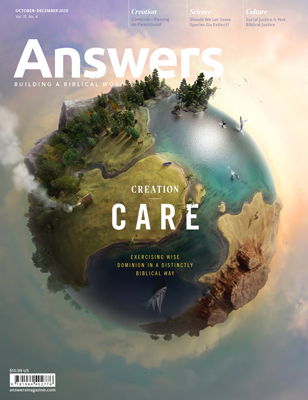 You'll discover biblical answers to questions about looming extinctions, plastic pollution, and how we as Christians should approach caring for God's creation. You'll also meet modern homesteaders, discover the simple yet controversial answer to why mountains are high and oceans are low, dive into the question, "Should we cancel Darwin?" and so much more.
This issue also has some exciting brand-new features, including an article in each issue with a hands-on experiment that ties into the biblical-worldview-based science content found on Answers TV's Unlocking Science. We're also including devotionals, one per week—perfect for a family Bible study. And, as always, the digital and audio versions of the magazine are free bonuses to subscribers.
Kids Answers Is Doubling in Size
I'm also very excited to announce that Kids Answers—the free children's magazine that comes with each issue of Answers—is doubling in size! Young readers (around ages 7–11) now get 16 pages of fun activities, fascinating animal facts, kid-friendly apologetics, and articles about God's fantastic creation.
Kids Answers now features a story series, Wanders in Creation. Kids will meet dad (a geologist), mom (a nature photographer), big sister Eva, and little brother Andy as they travel to exciting locations around the world, encountering evidence of creation and the global flood. In this first issue (arriving in October), Dad and Mom help Eva and Andy solve a big riddle in the Grand Canyon. Kids are going to love it! And you will love the fresh look and approach in this already very popular AiG resource.
Don't miss this issue or any of the exciting issues to come. Subscribe today at AnswersMagazine.com. It's a perfect Christmas gift, too!
Use Answers Magazine in Your Homeschool
This unique biblical worldview magazine is a wonderful addition to your homeschool curriculum.
This unique biblical worldview magazine is a wonderful addition to your homeschool curriculum. You can discover how to incorporate Answers and Kids Answers into your homeschool in this video from Homeschool Quick Tips (one of the shows on Answers TV), featuring Sarah Eshleman, the editor in chief of Answers.
Thanks for stopping by and thanks for praying,
Ken
This item was written with the assistance of AiG's research team.