Scripture tells us that each child is fearfully and wonderfully made by their Creator, right from fertilization. The psalmist knew that millennia before the ultrasound would be invented, but with modern technology and more detailed knowledge of the development of a baby in the womb, the more evident that scriptural fact is.
In a fascinating DVD, AiG's Dr. David Menton, an accomplished anatomist with a PhD in biology from an Ivy League school, shares about the incredible process of human development. It's an eye-opening and breathtaking look at what happens from before fertilization onward. I thought today, a day set aside to honor the sanctity of human life, would be a great time to share a clip from this remarkable presentation, given live at the Answers Center at the Ark Encounter located south of Cincinnati.
As you can see, the psalmist's words of praise are so true,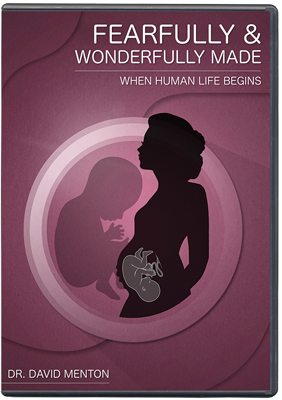 For you formed my inward parts;
you knitted me together in my mother's womb.

I praise you, for I am fearfully and wonderfully made.
Wonderful are your works;
my soul knows it very well.

My frame was not hidden from you,
when I was being made in secret,
intricately woven in the depths of the earth.

Your eyes saw my unformed substance;
in your book were written, every one of them,
the days that were formed for me,
when as yet there was none of them. (Psalm 139:13–16)
You can find the full version of Dr. Menton's superb talk, Fearfully and Wonderfully Made: When Human Life Begins, at AnswersBookstore.com.
Some of the information he presents will be used in our Fearfully and Wonderfully Made exhibit opening here at the Creation Museum this summer. We are so excited to proclaim to millions of guests the truth that they are made in God's image, that each human life is sacred, and that the gospel is the hope for all, including those who have had an abortion. It's a message everyone needs to hear!
Thanks for stopping by and thanks for praying,
Ken
This item was written with the assistance of AiG's research team.