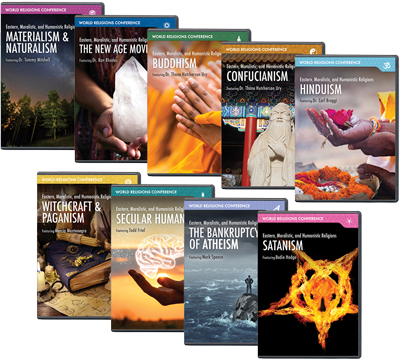 As we witness to people of different faiths, it is important to understand the basics of what they believe, where that belief system breaks down, and how to reach them with the good news of the gospel. The 2017 AiG conference here in Northern Kentucky was themed World Religions to equip believers to boldly share the gospel with people from all backgrounds and beliefs. And now, you can bring even more of that teaching into your home or church.
We've recently created a World Religions DVD Set #2. It includes nine more sessions from our World Religions conference:
These nine-DVD sessions join the eight DVDs previously released in the World Religions DVD Set #1, now providing a total of seventeen sessions! They are excellent for Sunday school, small groups, or personal study of beliefs that are leading people away from the one true God. You can purchase each set separately, or together in a combo pack for best value.
These informative and equipping teachings are also available in audio and the three-volume book set, World Religions and Cults.
All of these resources, and more, are available on our online store at AnswersBookstore.com.
Thanks for stopping by and thanks for praying,
Ken
This item was written with the assistance of AiG's research team.