You've recently concluded year two at the Ark Encounter. How popular was the Ark attraction last year?

We're thrilled with attendance last year for both our attractions. Over one million guests came to the Ark, and sometimes we welcomed 7,000–8,000 visitors on busy days. Up to 12,000 people will visit the world-class Ark Encounter and our popular sister attraction the Creation Museum in Petersburg on a summer day.

Particularly encouraging this past year was the 20% increase we saw in the number of motor coach tours that visited our attractions, even coming as far away as Dallas, Texas—and many buses arrived from states like Iowa. With the growth of these organized tours, and with "raving fans" going back into their communities and encouraging others to visit us, we think the third year at the Ark will be just as strong as year two.

Our large facilities can actually handle even more guests per day, but the lack of hotel beds in the region is putting an artificial cap on our potential audience. We heard from a few people last week that they had to find accommodations about an hour away because the hotels they tried to book in Northern Kentucky were completely full. We look forward to the much-needed addition of hotels to meet the Ark demand, and we hear they are coming, from Florence to Williamstown. The demand for hotel rooms in northern Kentucky is four times the national average and is attributed mainly to the popularity of the Ark Encounter and Creation Museum.

We have experienced another remarkable year and an uptick in attendance.

We are like most attractions in that we don't release annual attendance figures. We know how people will attempt to figure them out on their own, but some will cherry pick information from different sources and try to argue the Ark has not been successful. For example, you can't look at ticket sales to come up with the grand total. You see, thousands and thousands of young children under 5 who have visited in the past two years came free with their families. Also, Ark members who have life-time passes don't have to pay for a ticket, and they also receive a number of free tickets each year to use for family and friends. Also annual pass holders may visit multiple times, and they too don't show up in ticket sales. But we can say that attendance for year two was higher than our excellent first year.

A wide range of business owners from Dry Ridge up to Florence will certainly attest to the Ark's phenomenal attendance and impact on their cities. It should come as no surprise that the Ark was the recipient of the "Star of Tourism" award last year from the Northern Kentucky Convention and Visitors Bureau.

It's important to mention that almost all attractions see a drop in attendance after the initial excitement of the opening year wears off. But we have experienced another remarkable year and an uptick in attendance.

Indeed, the Ark Encounter has quickly become a major international tourist destination. On a given day, you can hear various accents from all over the world inside the Ark. In addition, the world's media continue to visit on a regular basis.

What's in store for the future and what is the timeline?

The huge ship, our growing Ararat Ridge Zoo behind it, and other outdoor facilities are just phase one of the theme park. We have 800 acres, and it will take several years to complete all the phases—and they will be built as donations come in. For the moment, we continue to engage in major expansions this year and through 2019, with other significant phases planned beyond 2019 and over many years.

Ark visitors who came in 2016 will barely recognize the grounds around the Ark and near the lake in front of the massive ship. Updates for 2018 and 2019 include

A large 2,500-seat auditorium called "Genesis Hall," inside a mammoth multi-purpose facility called the Answers Center. The center will include a 36,000-square-foot basement with classrooms and breakout areas.
The impressive Ararat Ridge Zoo behind the Ark is doubling in size, to be completed by the summer of 2019. Tibetan yaks, zebras, alpacas, kangaroos, and many other animals have been added since the Ark Encounter opened.
A large new children's play area, available for use even by those with disabilities, is being planned for a spring 2019 opening.
The Village Market, on the west side of the lake and near the Ark, features new food venues and one-of-a-kind retail items for sale, including Fair Trade products.
The new Monument Walk entrance to the ark, now open on the east side of the lake, is an instructive area where guests are introduced to major biblical events of Genesis prior to Noah's Flood. Exotic live birds are also exhibited.
The beautiful Rainbow Gardens are a must-see for guests as they walk to the Ararat Ridge Zoo. In one spot, flowers help recreate the rainbow of Genesis chapter 9 for visitors to view as they sit in covered eating areas.
The huge Emzara's Buffet, one of the largest restaurants in America with 1,500 seats, now features an expanded high-quality buffet with many new menu items, drawing raves from guests.

By the way, with seasonal staff, AiG and its attractions employ over 1,000 people. Also, thousands of other jobs related to the Ark have been created in the county and beyond. The economic impact on northern Kentucky has been enormous. Other construction is going on in northern Kentucky that is Ark-related. New hotels and other tourism-related businesses have launched or are under construction throughout the region, and their owners cite excellent attendance at the life-size Noah's Ark as a main reason. The state's treasury is benefiting from sales and payroll taxes collected at a variety of stores where our Ark guests will visit, and Kentucky is also seeing the creation of thousands of Ark-related jobs.

Interestingly, over 90% of our guests do not live in Kentucky, Ohio, and Indiana, so most of our visitors are filling local hotels and restaurants. And the Creation Museum has had two consecutive years of record attendance, eclipsing the year one back in 2007.

What can you share about the demonstrators who were at the Ark Encounter on your second anniversary?

We point out that while 120 people representing various atheist and humanist groups, including Planned Parenthood, demonstrated outside the Ark on July 7, over 6,000 people toured the massive ship that day. Meanwhile, over 2,000 people visited the Creation Museum in Petersburg on the same day. At the Ark Encounter, we especially welcome atheists and other secularists to tour the Ark and be exposed to our teachings, which are largely censored from the culture, especially in public schools. Naturally, we acknowledge that protestors can peaceably assemble, as guaranteed by the First Amendment of the Constitution.

We want to present biblical teachings and give the good news of the gospel to non-Christians.

The Ark welcomes anyone to visit. Most of all, we want to present biblical teachings and the gospel to non-Christians, including to those who might be openly hostile to Christianity. We trust that most of the demonstrators on July 7 took the opportunity to come on the grounds and walk through the Ark and view the dozens of its first-class exhibits. We are happy to report that their demonstration, with some small exceptions, was largely peaceful, and that by all accounts, the Christians who engaged them in conversation were very polite.

Looking back, why was locating in Grant County the right decision in your mind?

We could have built the Ark Encounter in Indiana, where two counties wanted our attraction. Grant County, though, was an excellent choice for many reasons, including: 1. we had sought land off busy I-75, running from the Canadian border down to Miami, that was not outrageously priced and located within a one-day drive of almost 2/3 of the US population; 2. the business leaders, pastors, and most politicians in the county were very welcoming when we started looking for property a few years ago, and the government bureaucracy here was not as intense as other counties; 3. Kentucky had offered a tax incentive, at no risk to the state, to encourage tourist attractions to build here, and Indiana did not have such an incentive.

Yes, it turned out to be a wonderful decision to build in Grant County.

Ken, what are your guests saying about their experience at the Ark Encounter and how can you keep them returning to the biblical attraction?

Well, we can let them speak for themselves. Here is a sampling of recent comments from our guests:

The Ark Encounter and the Creation Museum were both awesome! WOW! We can hardly wait to return with our kids. We were truly blown away at how well everything was presented and displayed. First quality in everything!"—L.W., Pennsylvania

"Unforgettable. Amazing! FIVE STARS!"—K.S., Alabama

"I am a pastor. I have visited the Ark on two occasions. It is the most powerful presentation of Christ that I have seen since the days of the Billy Graham crusades."—Pastor D.S., Mississippi

"What an amazing experience we had! Seeing [the Ark] full scale with everything inside was just a real eye opener! So informative, and the figures of the people and animals are so realistic that I half expected them to walk around at any second. The most phenomenal exhibits I have ever seen. I enjoyed every minute we were there."—M.Z, Pennsylvania

"We had a great 10-day vacation, packed with fun family activities. But our favorite was the Ark. We enjoyed the wonderful buffet at the restaurant. The grounds and landscaping were absolutely beautiful. It was a tremendous blessing. We will come back again."—P.R., Michigan

Now, here's a comment from a person who is not a Christian and admitted to us that he did not agree with much of the Ark's content:

"The quality of the attraction, its exhibits, and the prices are awesome. Even if you're not a believer like me, it was well worth the trip."—R.J., Illinois
Yes, people from all over and all backgrounds are raving about the Ark Encounter and we look forward to the expansions that are to come.
Local History Museum Visits the Ark
We recently had a group from a local history museum, the Behringer-Crawford Museum in Covington, Kentucky, visit the Ark Encounter to compare notes and gather best practices. A BCM staff member wrote us afterwards:
We noticed all the different state's license plates in the ark parking lot and marveled how this positively affects Kentucky's economy. So thank you for ALL you do for the state. The Ark Encounter and Creation Museum continue to partner with local museums and other attractions to share information and to promote the many things to do in the Cincinnati/N. Kentucky region.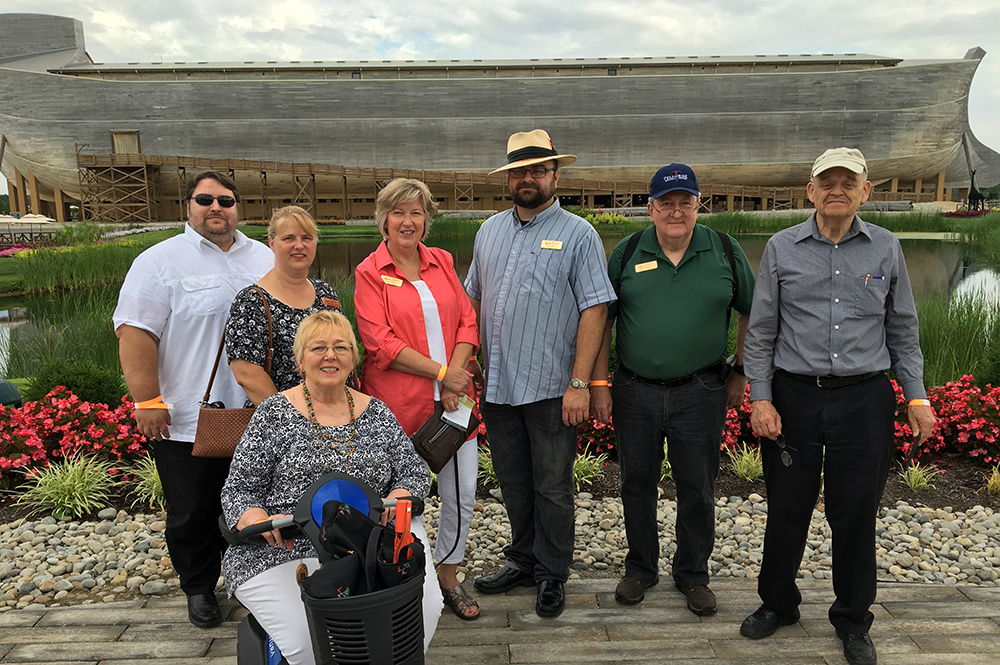 By the way, using the state of Kentucky's multipliers, the economic impact of both the ark and the Creation Museum has been in the hundreds of millions of dollars.
We hope you will make plans to come and see the Ark Encounter and our sister attraction, the Creation Museum, for yourself. We're in Northern Kentucky. Plan your visit at ArkEncounter.com.
Thanks for stopping by and thanks for praying,
Ken
This item was written with the assistance of AiG's research team.