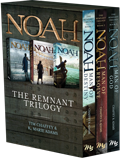 Noah: The Remnant Trilogy is a three-book set of historical fiction that crafts a riveting backstory for Noah. Remaining faithful to the details we're given about Noah in Scripture, it portrays a godly man struggling to live in a world at enmity with God and filled with all kinds of wickedness. This series is written by Tim Chaffey, the content manager for the Ark Encounter and Creation Museum, with help from K. Marie Adams.
The final book, Noah: Man of God, was just released and dramatically finishes the trilogy. It's a must-have if you've read the other two books. If you or your teenager hasn't read the series yet, all three books are available as a boxed set. Noah: The Remnant Trilogy is a God-honoring, encouraging choice for summer reading.
These books are available individually or as a set at AnswersBookstore.com.
Get a Flood of Answers
Discover more about Noah, the flood, God's Word, and the gospel in two resources from the Ark Encounter. Ark Signs is a colorful book that features many the Ark Encounter's teaching signs on the ark's three decks. We found that many people were trying to take photos of all the signs to read again later. Well, this book makes that much easier by putting high-quality versions of the signs in book form for you to read and share with others.
And our graphic-novel-style ark exhibit, Searching for Truth, is also available as a book. This style is especially popular with teens and young adults and powerfully presents a case for the truth of God's Word and the gospel.
For more general questions about Noah's ark and the flood, check out A Flood of Evidence, a book I coauthored with my son-in-law Bodie Hodge.
You can order these resources as a set or individually at AnswersBookstore.com.
Thanks for stopping by and thanks for praying,
Ken
This item was written with the assistance of AiG's research team.