This film is unique because it features stunning animation of the days of creation. It's amazing in both normal DVD, but even more stunning in 3D! It brings the first chapter of Genesis to life like you've never seen it before. You'll want to be sure to order the special 3D Blu-ray version so you can enjoy the 3D features with your 3D TV. (Please note that the normal DVD version will work with any TV, but the 3D Blu-ray will only work with special 3D TVs.)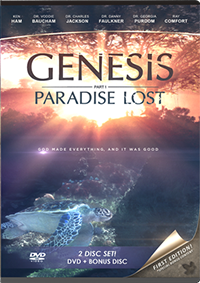 Interspersed throughout the stunning animations are interviews with top scientists and theologians, including several from Answers in Genesis. You'll hear from Bodie Hodge, Dr. Terry Mortenson, Dr. Tommy Mitchell, Dr. Georgia Purdom, Dr. Danny Faulkner, Dr. David Menton, and me. Many of the segments were even filmed here at the Creation Museum.
Included with the film is a bonus director's commentary with special behind-the-scenes peeks, as well as a panel discussion with AiG's Dr. Georgia Purdom, Creation Today's Eric Hovind, Living Waters' Emeal Zwayne, and me.
Preorder now through March 1, 2018, for a special bonus video download (a $9.99 value). Included free with your preorder is a download of Proof of God, featuring Creation Today's Eric Hovind. In this presentation, Eric poses four questions atheists hate to answer. This excellent companion to Genesis: Paradise Lost will help equip you to engage with atheists and other non-Christians, pointing them to Scripture and the life-saving gospel.
Genesis: Paradise Lost is a powerful testimony to the truth of God's Word and the gospel of Jesus. It's a great film to show your unsaved family and friends. Preorder your copy on normal DVD for any TV, or 3D Blu-ray for 3D TVs at AnswersBookstore.com.
Thanks for stopping by and thanks for praying,
Ken
This item was written with the assistance of AiG's research team.