We've noticed Ark guests taking photos of each sign so they can go back and re-read the informative signs later. So we decided to produce a book packed full of colorful photos of the Ark signs. Ark Signs is now available in the Ark Encounter gift shop or at our online store!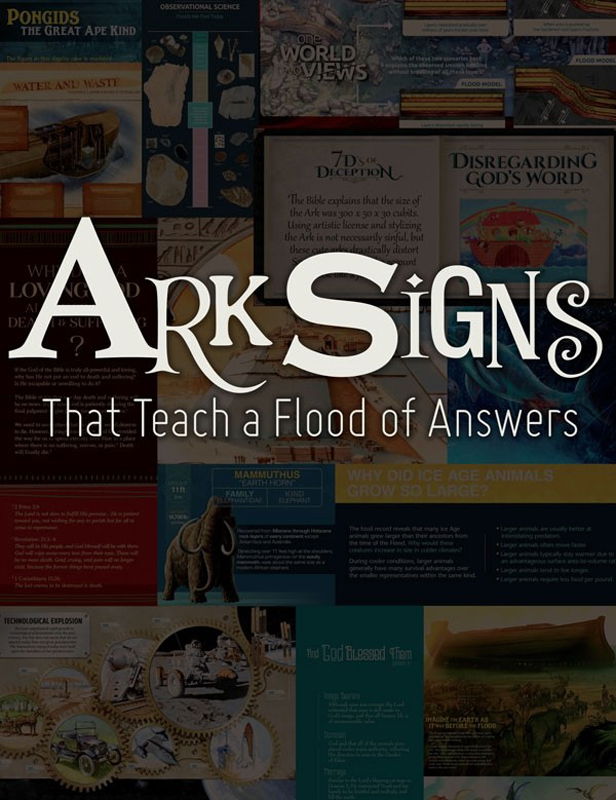 This book is a great resource for anyone, whether they've been to the Ark or not. The signs found throughout the Ark provide solid, Bible and science-based answers to your questions about Noah's Ark, including
How did Noah feed and care for all the animals?
What about light and ventilation?
What ancient technologies did Noah use to build the Ark and care for the animals?
What effect did the Flood have on earth?
What about the Ice Age?
How intelligent was Noah?
How could Noah fit all the land animals needed on board?
What is the geologic evidence for the Flood?
Ark Signs is a great memento from your trip to the Ark, and it also makes a great gift for friends and family back home. Order your own copy from our online store today. Even if you haven't visited the Ark, this book will teach you all the information featured in the Ark's astounding exhibits.
In this Facebook Live video, my son Jeremy and Tim Chaffey, the content manager for our two attractions, show you the book as they look at some of the signs featured in the Ark exhibits.
We also have many other Ark-themed resources available (and, due to the phenomenal response to the Ark Encounter "Take Back the Rainbow" campaign, we're also producing biblical rainbow products centered around the Ark). Some of these Ark-themed resources include a visual tour through the Ark in a beautiful coffee table book, a book and DVD on the building of this architectural marvel, a DVD on the building of the incredible Ark exhibits, and a CD of the unique specially composed music that plays throughout the Ark!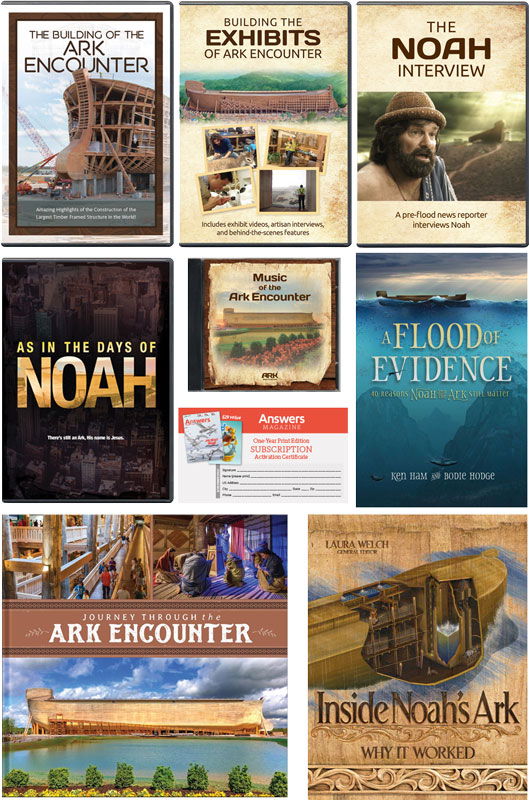 We even offer a brand-new Experience the Ark Super Pack that includes eight exciting Ark-themed resources (all of which are best sellers down at the Ark gift shop), including:
Journey through the Ark Encounter: Hardcover
As in the Days of Noah: DVD
Inside Noah's Ark: Hardcover
Building the Exhibits of Ark Encounter: DVD
A Flood of Evidence: Softcover
The Noah Interview: DVD
Music of the Ark Encounter: CD
The Building of the Ark Encounter: DVD
And a coupon for a one-year subscription to our award-winning Answers} magazine!
That's a $151 value for only $89.99! This super pack is a great addition to any home, church, or school library. Order your pack today at our online store.
Thanks for stopping by and thanks for praying,
Ken
This item was written with the assistance of AiG's research team.