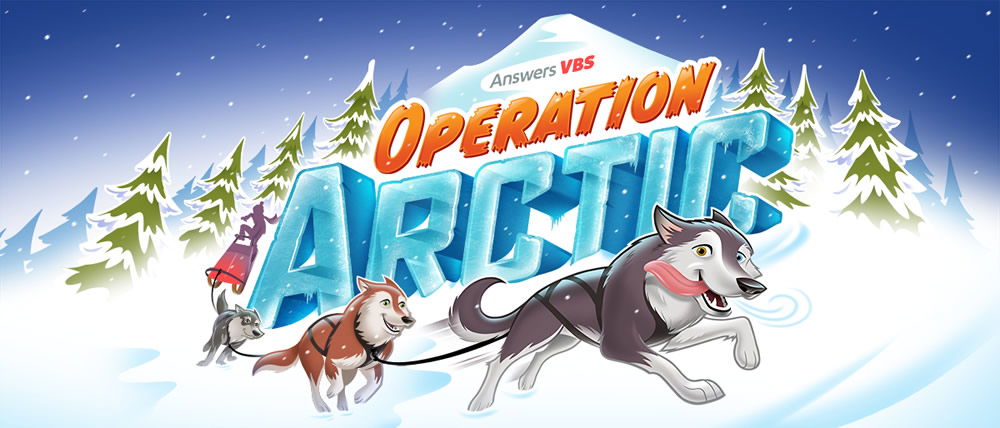 This year's VBS was Ocean Commotion: Diving into Noah's Flood. Children were encouraged to, by God's grace, Stand for God, Obey God, Trust God, Thank God, and Fear God, just as Noah and his family did. And of course, kids were equipped with solid answers to common questions about the Flood and Noah's Ark, such as "How could Noah fit all the animals on the Ark?" and "Did the Flood really cover the whole earth?" During the week of VBS, children were also encouraged in a mission moment to be the hands and feet of Jesus by providing meals and gospel booklets for needy children through the Christian humanitarian group Children's Hunger Fund.
Well, we're excited to announce that the theme for Answers VBS 2017 is Operation Arctic. Every day our kids are bombarded with the message that they can't trust God's Word when it speaks of the earth's history or the gospel. Next year's Answers VBS, with the help of five Arctic friends, will take children on an exploration of the "coolest Book on the planet" in one of the coolest places on earth as they learn that God's Word is true and trustworthy. They will discover that the BIBLE:
Is the Book of Books, unique in every way!
Has had an Incredible Impact upon our world!
Is the Bedrock Base of our lives!
Is a Letter of Love in which God tells us how we can become His children!
Is Exciting to Explore as we learn it, love it, and live it!
In a day when God's Word is mocked and attacked by our culture, the media, and in most schools, it's more important than ever that we equip children to stand firmly on God's Word. Our unique VBS programs will help them do just that. And, of course, the gospel is the focus of every Answers VBS because there's no greater message for kids to hear than that there is a God who came to save them and offers eternal life.
I was recently able to visit our VBS pilot church that has already used next year's VBS. I watched over a thousand children not only get excited about the program, but also learn lots about God's Word, apologetics, the gospel, and much more. The crafts, games, snacks, and vital teaching make it an entertaining but powerful program. As our visionaries behind AiG's VBS programs said to me, "Kids love to learn, and we wanted to produce programs that go deeper into God's Word, yet are exciting and fun. And the kids just love it—and they love learning."
Having a test church allows us to film videos such as the skits and also to photograph kids participating in the VBS to use in next year's guides and other materials. While I was visiting the church, I recorded two live Facebook videos that you can view below to see Operation Arctic in action:
Also, if your church has a Latin outreach or has Spanish speakers who would love to run a VBS for Spanish-speaking kids, we have exciting news. Starting next year, Answers VBS will be available in Spanish! This Spanish curriculum will be a translation of the previous year's VBS, so Ocean Commotion (or Conmocion Oceánica) will be the 2017 Spanish Answers VBS. This is a tremendous opportunity to reach out to the thousands of Spanish speakers here in the United States or to take the message of the gospel, as presented through a VBS program, to Spanish-speaking countries. Keep an eye on the Answers VBS blog to learn more information in the coming months.
Learn more about Answers VBS or preorder Operation Arctic today.
Thanks for stopping by and thanks for praying,
Ken
This item was written with the assistance of AiG's research team.