It is such a thrill to walk out into the Creation Museum and see adults, teens, and kids seemingly everywhere we look! Yes, the Creation Museum is a busy place. It's been so for seven years—much to the chagrin of the secularists who have been trying hard in recent times to spread all sorts of false information about attendance, exhibits, and other items in their attempts to malign what God is doing through this unique God-honoring facility.
We understand the urgency in reaching as many people as possible with the message of the truth of God's Word beginning in Genesis. Therefore each year we conduct various campaigns to promote the Creation Museum so people will know about this wonderful place and encourage them to visit. Our ultimate purpose is to equip Christians to defend the Christian faith, and to challenge non-Christians concerning the truth of God's Word and the gospel.
We find that many secularists just can't help themselves when we conduct these promotional campaigns—they react in various ways because they don't want people to know about the Creation Museum. They are so intolerant of Christians getting their message out. Yes, these secularists only want people to hear their message of hopelessness and meaninglessness which comes out of their humanistic worldview.
Well, we begin this fiscal year with a two-month concentrated campaign using billboards, TV advertisements (on 16 different TV networks), advertisements on Pandora Christian Radio stations (Pandora Radio is an Internet-based radio network), and what are called "wallscapes"—large advertisements displayed on the sides of big buildings.
AiG's marketing agency, Joseph David Advertising, has worked hard to produce the artwork and to enable us to target very specific audiences. For instance, the TV spots will appear on 16 different networks, but will be shown at times when we know the specific audiences (i.e., who are determined would be most likely to consider coming to the Creation Museum) would be watching. They have also put together a similar sort of plan for advertisements on Pandora Radio.
As July and August are months when many people are traveling, we have decided to concentrate billboards in Kentucky, Ohio, and Indiana. Ohio and Indiana are the states closest to the Creation Museum in northern Kentucky, and these are states that many people travel through on interstates during this busy vacation time. Along with the billboards, large "wallscapes" will be seen on buildings in Cincinnati, Chicago (a five-hour drive from the museum), and Michigan (it's about three hours from our museum to the state line).
In July, our marketing advertisements will concentrate on promoting our very successful "Kids Free to the Creation Museum in 2014" program. Then in August, we will add billboards and other ads to promote the spectacular new $1.5 million Allosaurus exhibit that recently opened at the Creation Museum. The skull of this monster is three feet long and is 97 percent complete.
Here are mock-ups of examples of the billboards for July: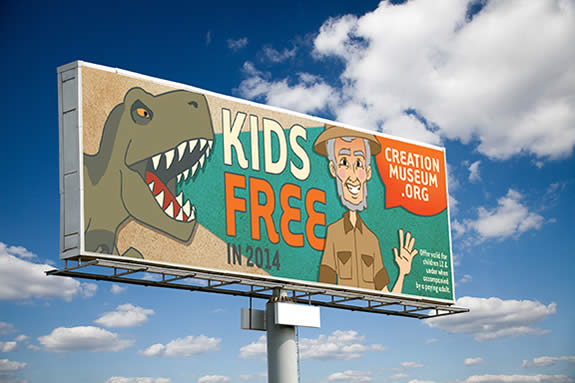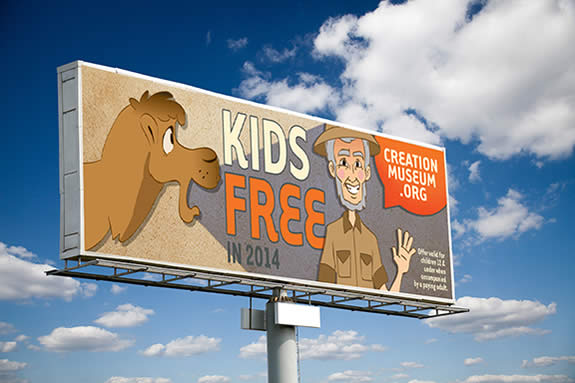 And here is a mock-up of a wallscape. One of these will be on the side of a building readily seen from Interstate 71 in downtown Cincinnati and near I 471, which takes you across the Ohio River and into Kentucky. This will really stand out and be seen by thousands and thousands of drivers every day.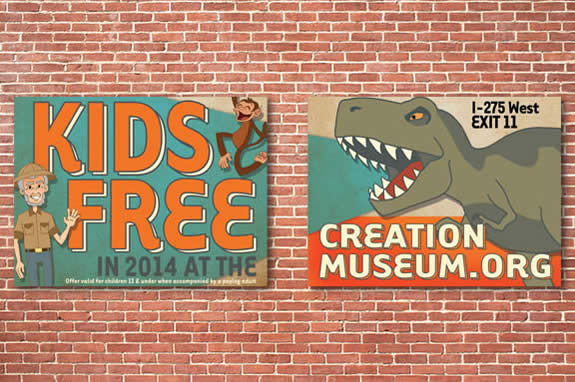 This is a copy of the visual being utilized on Pandora radio:
Here is the TV spot that will appear on 16 TV networks:
http://youtu.be/LW3SGd9faQo
We pray that as a result of this extensive two-month campaign, many more adults, teens, and kids will come to the Creation Museum to learn the truth of God's Word.
Thanks for stopping by and thanks for praying,
Ken