When I spoke a few months ago at the Cove—a national Christian retreat in the beautiful mountains of North Carolina—the special musical guest that week was the Brown family. I was so blessed by their ministry in music that I invited them to visit our Creation Museum and sing for our staff.
Here is what Angie Brown wrote to us after her family's visit last month:
We met Ken Ham when we led worship for his conference at The Billy Graham Training Center at The Cove, which later opened the door for us to do a concert for his staff and tour the Creation Museum. What a blessing it was! Ken Ham, Mark Looy, and the entire staff couldn't have been more kind to us as we witnessed firsthand the fingerprints of God covering the entire work of the AiG organization.

The pictures of the museum that Ken showed while we were with him the previous July did not do the museum justice. The breathtaking exhibits would entertain the youngest to the oldest, but we were most impressed with how God's Word and science came together to answer some of life's most pondered questions.

The re-creation of the Garden of Eden captures the truth of a loving God reaching out to a fallen world. Along with the Garden of Eden exhibit and all the others, the planetarium gave us a glimpse of the vastness of our universe and the humbling reality of being fully known by its Creator. God is who He says He is, and at the Creation Museum, there is proof.

Being with Ken and all the museum staff and volunteers left us feeling inspired and challenged to study God's Word even more and learn all we can to defend our faith.

God is using AiG and the Creation Museum not only to teach believers, but to share the truth of Jesus Christ with a lost world.
For information about this talented family and to see what's involved in bringing them to your church, go to
brownfamilyministries.org
.
Here is a photo of me with the Browns inside the museum: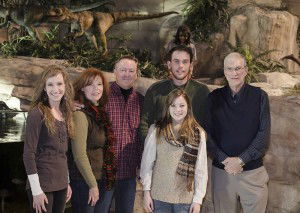 Debate Tickets
Today is the day that tickets went on sale for the debate I will have with Bill Nye on creation vs. evolution at the Creation Museum on February 4. All tickets for the debate sold out within minutes! Information will soon be available regarding a live streaming option as well as DVDs to preorder. Watch the
debate event page
for details.
Thanks for stopping by and thanks for praying, Ken