For the past few years, a woman in Iowa by the name of Ellen has brought many groups from Iowa and nearby states to the Creation Museum—about 600 miles away. She visited last Friday and this time had ten friends visit the museum and enjoy "New Christmas Town." Here is what Ellen shared with us:
I just want to say a big THANK YOU for going to all the work it takes to put on Christmas Town. Eleven of us arrived Thursday evening and spent all day Friday and Saturday there. Four of them had never been there before and for the rest it was a second or third time. Everyone had a wonderful time. Highlights:

loved the free DVD
the Magi was totally awesome!!!
the background music was incredible
of course, the LIGHTS. How could you ever improve on THAT!!!
it was great that Noah's café stayed open until 8:00

I guess if you count this group of eleven that came this time, it would make nine groups that I have arranged to get to the Creation Museum. It truly has become a ministry for me. THANK YOU.

You have built the most awesome place. There is no other place like it on the planet. Keep doing what you are doing.

In Christ's service,

– Ellen B., Iowa
Please visit our spectacular
New Christmas Town
this Friday or Saturday—it's free every evening, Friday and Saturday, in December.
Here are some photos of the dazzling lights on our museum property: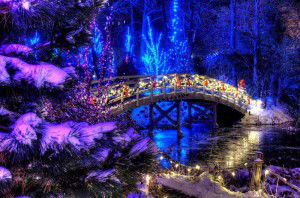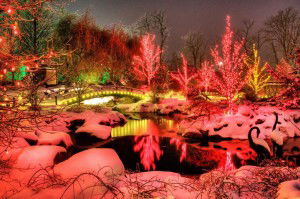 Here is the YouTube link for the video promoting New Christmas Town—please spread it around:
http://www.youtube.com/watch?v=CVSD3whFM5Y
Meanwhile, another group was here recently. This group broke our former record for number of people standing at our green screen to have their photo taken at our special Foto FX booth in the museum portico. For about five years the group record was 96. This time it was 106 people from the Bible Center School in Charleston, West Virginia, that squeezed into the shot.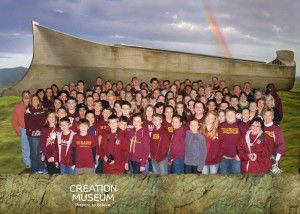 Yesterday, we had a pastor visit the museum from Beijing, China. For obvious reasons I will not show his photo or mention his name, but I can say that he was thrilled with the evangelistic focus of the museum. He asked us to please continue to pray for the believers in China. One of our staff members has been to China and has studied the persecuted church there. He tells me that while Chinese religious leaders are reporting that the number of violent incidents (beatings and torture) against imprisoned believers apparently has decreased, there has been an increase in the number of Christians being imprisoned and control over religious groups has intensified (reports of closer monitoring of churches, the surveillance of pastors, and so on). As international pressure has had some effect on China's harsh treatment of Christians, there is an overall impression that China is not persecuting the church as much. But it is not a true picture. Please pray for our brothers in difficult situations like this.
Thanks for stopping by and thanks for praying, Ken