Before I left for Australia, I had the opportunity to do a few media interviews, including two film projects. One project is on hummingbirds, of all things! The other project is associated with our friends at Vision Forum Ministries, which is involved in the production of many Christian films. Vision Forum also encourages others to produce Christian-themed films, including through its well-known San Antonio Independent Christian Film Festival. The current film happens to be on the topic of the dragon legends we hear about all over the world. That's also the theme of one of the newest exhibits inside the Creation Museum, which, among other things, answers the question, "Were dinosaurs dragons?"
Here is a photo of the film crew interviewing me as we shot outside one morning in front of our beautiful gardens on the grounds of the Creation Museum: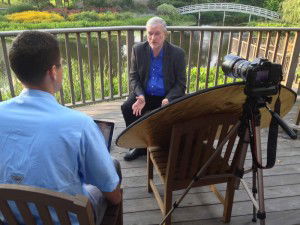 Members of the Duggar Family
We continue our contacts with the famous Duggar family from Arkansas. This is the Christian family that has 19 children and has become internationally known for its TV program on the TLC network called
19 Kids and Counting
. While I was away, Josh Duggar, the oldest of the 19 children (who now serves as executive director of the
FRC Action
organization in Washington DC), and his wife Anna paid us a visit with their three children. Yes, the famous Duggar parents are now grandparents! Here is the cover of a magazine featuring the couple after their 19th child was born: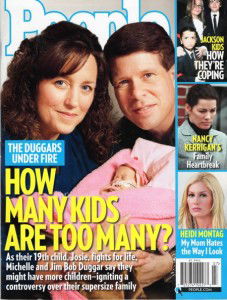 The episode of the family's visit to our Creation Museum a few years ago is no longer on the TLC website. But you can read my blog post about their visit.
For more information on this delightful Christian family, see their TV program website.
A Notable Birthday
Lastly, I wanted to pay tribute to a great friend of the ministry, Dick Sauer. Dick and his wife Marlene were the first volunteers who came on board with us when AiG started in northern Kentucky in April–May 1994. Marlene continues to
volunteer
more than 19 years later, but Dick, because of health issues, has had to stop volunteering. A World War II veteran (serving in the Pacific Theater), Dick celebrated his 90th birthday in Cincinnati last weekend. While I could not attend, AiG's other founders, Mike Zovath and Mark Looy, were there, along with other AiG staff. Here is Dick at the party inside his house: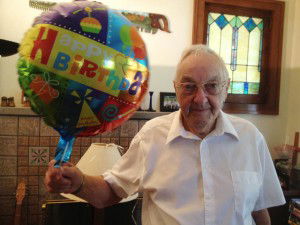 Thanks for stopping by and thanks for praying,
Ken