At the Creation Museum and Answers in Genesis, we teach that the account of Noah is factual history as the Bible records it and not fairy tale! But it's time that our children had a fun book that treats all the most important elements of the Flood and Ark as real and true.  For instance, it's sad that so many children's books on Noah's Flood picture the Ark like an oversized bathtub with giraffes sticking out of the chimney—about to sink at any moment!  This teaches kids that Noah's Ark was a fairy tale instead of teaching that it was a real ship built for a real global Flood.
To help fill this need, my newest book, N is for Noah, adds to the series of children's books including A is for Adam and D is for Dinosaur.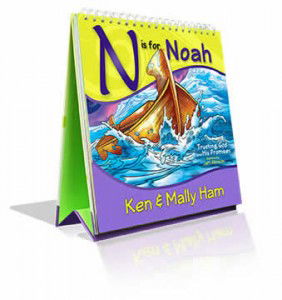 N is for Noah is the account of the Ark, the Flood, and the man of faith at the heart of the biblical account. And the whole account is told in memorable, rhyming verse written by my wife Mally and me—kids love it!  And as we always do, of course, we point children to the message of the saving gospel of Jesus Christ.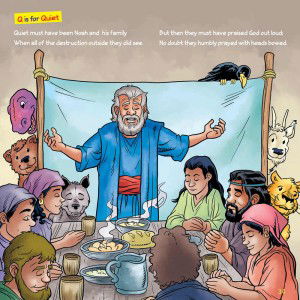 As you can see, the illustrations for this new book are at the same high level of quality as the A is for Adam and D is for Dinosaur books. And the benefit of combining these beautiful illustrations with rhyming verse is that children will develop skills like memorization and comprehension while creating a strong biblical foundation. It also helps reinforce their understanding of the true history of Noah, the Ark, and the great Flood.
This new book is especially helpful for teachers, parents, and homeschooling families, as it includes tips on how to present important Christian concepts to children and to enhance their understanding. Each illustrated page includes a lesson guide on the back, with activities and steps for ensuring that children understand what's happening.  Kids can read it as a book—and parents can read it to them as well as teach it to them!
N is for Noah provides structured learning enhanced with important words, biblical concepts, and verses. The book's easel-style format makes it easy to read or teach to your child. With colorful illustrations and a delightful rhyme, the book is sure to be a favorite.
Don't miss out on this great resource! It's available to order in the Answers in Genesis online store, or you can pick it up in the Creation Museum bookstore on your next visit. Use N is for Noah as a tool to teach your children that they can trust God's Word, from the very first verse.
Thanks for stopping by and thanks for praying,
Ken