As I am a citizen of both Australia and America, and on this Mother's Day, I would like to say, "Happy Mother's Day to a godly mum" (that's in Australian English) and "Happy Mother's Day to a godly mom (in American English)!
Here is a photograph of my mother taken in March this year when Mally and I traveled to Australia for a quick visit to spend time with our remaining two parents—and to encourage them: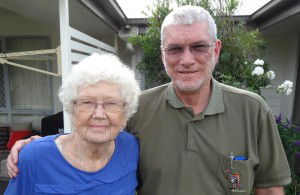 "Honor your father and your mother, that your days may be long upon the land which the

Lord

your God is giving you." (Exodus 20:12)
The Answers in Genesis ministry,
Creation Museum
, and coming
Ark Encounter
are part of her legacy. I love you, Mum (Mom).
I encourage you to visit my Facebook page today and view the short video clip of an important message from my 85-year-old mother that I recorded this past March.
I also would encourage you to view these two video clips I recorded of my mother in March this year as she related to me many experiences she and my dad had over the years. (My dad went to be with the Lord 18 years ago.)
Video clip one: My father was a school principal, so we were transferred to many different towns in Queensland as he was promoted. Many of those towns had very few churches (some only one or two). In this first video clip, my mum tells of one church they had to leave because the pastor believed in millions of years and looked on the Bible as just a book of stories (i.e., that events like those in Genesis and the miracles weren't historical events). My father argued with him for hours about the historicity of Noah's Flood—so hear what my mother had to say about this:
[quicktime]http://media.answersingenesis.org/Blog/Blog 1 May.m4v[/quicktime]
Video clip two: At another church in another town, my mother relates the account of a liberal pastor that my dad challenged concerning the truth of God's Word (on many occasions actually, as I was old enough to remember this). She then tells of meeting with that pastor many years later—and what a change had occurred in this pastor's life:
[quicktime]http://media.answersingenesis.org/Blog/Blog 2 May.m4v[/quicktime]
Praise the Lord for a godly mum!
And I trust that through these videos, you have seen how the godly, bold, and uncompromising stand of parents has had a great influence on their children. What a spiritual legacy my parents passed on to the next generation.
Thanks for stopping by and thanks for praying,
Ken