Last week was an exciting time in the AiG Worldwide Outreach ministry. The first Spanish-language strategy day had ten invited guests who brought a wide range of experience in reaching out to the Hispanic community—domestically and internationally—with the creation/gospel message.
The goal of this summit was to explore how AiG could increase its footprint of "creation evangelism" to Latin and North America. This is in response to our Lord's command to go to the entire world with the gospel (Matthew 28:18–20). The main focus of discussion centered upon furnishing Hispanic churches with the message of biblical authority through our conference-teaching ministry, and then by equipping Christians through a wide variety of translated materials. Also, reaching out to colleges in Latin America was a major point of discussion.
A number of key issues were brought up, including effective publishing, distributing the new resources, and marketing them in the U.S. and Latin America. The importance of building relationships and being aware of cultural differences were also discussed.
Among our summit guests were Creous and Elizabeth Ramdath, full-time missionaries in Lima, Peru, who also spoke to the entire AiG staff on Thursday.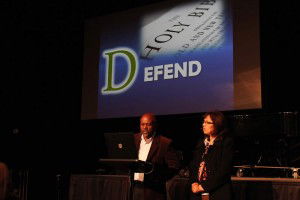 The Ramdaths are directly involved in creation evangelism to the church in South America (under the auspices of our friends at American-based Canopy Ministries, with the direction of James Gardner). Creous is from Trinidad and Tobago, and Elizabeth is a native Peruvian. This dynamic husband-and-wife team has a love for the gospel as it relates to the book of Genesis, and their burden takes them into schools, camps, and churches throughout Latin America. Their input was invaluable to all who were there at our summit last week. Take a peek at their Spanish-language website.
Here is a photo of most of the people who attended the summit: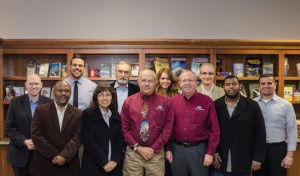 Seen in the photo above include experts in the fields of missions work, pastoral ministry, publishing, marketing, conferencing, etc. With the changing demographics in America and with so many millions of Latin Americans living in this hemisphere, AiG is increasingly burdened to minister to these souls. We are grateful to God for the doors now being opened to present the creation/gospel message to the several nations where Spanish is primarily spoken, and also to the millions of people who speak Spanish in the U.S.
A few years ago, we produced a DVD set of my talks that were simultaneously translated into Spanish. Filmed in Mexico, the Creation Mini-Series (Spanish) set included talks such as Learning to Think Biblically and The Origin of Races.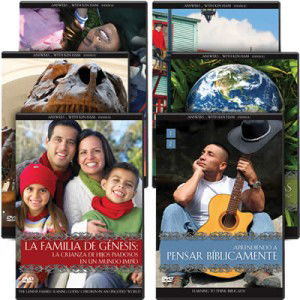 Please pray that this video series, plus new resources to be produced in the Spanish language, will see a wider distribution as more channels are now opening to AiG materials. And pray that people will come to know the reliability of God's Word and the credibility of the gospel message as a result.
Thanks for stopping by and thanks for praying,
Ken