I am in Mobile, Alabama, for an AiG conference. I was sad to miss the memorial service yesterday of one of our dear staff members at the Creation Museum, Dave Sheppard. Before I flew off, I recorded a short tribute to Dave, who was the manager of guest services at the museum. I expressed my condolences to his widow, Pam, and their teenage daughters, Natalie and Amanda. Here is that video tribute that was shown Saturday evening at the service held at Dave's church, Grace Fellowship in Florence, Kentucky.
Before I recorded this video, I had some of Dave's colleagues share their remembrances of their servant-leader, whose last name, appropriately, was "Sheppard" (some of these comments below I read on the video); here is a sampling: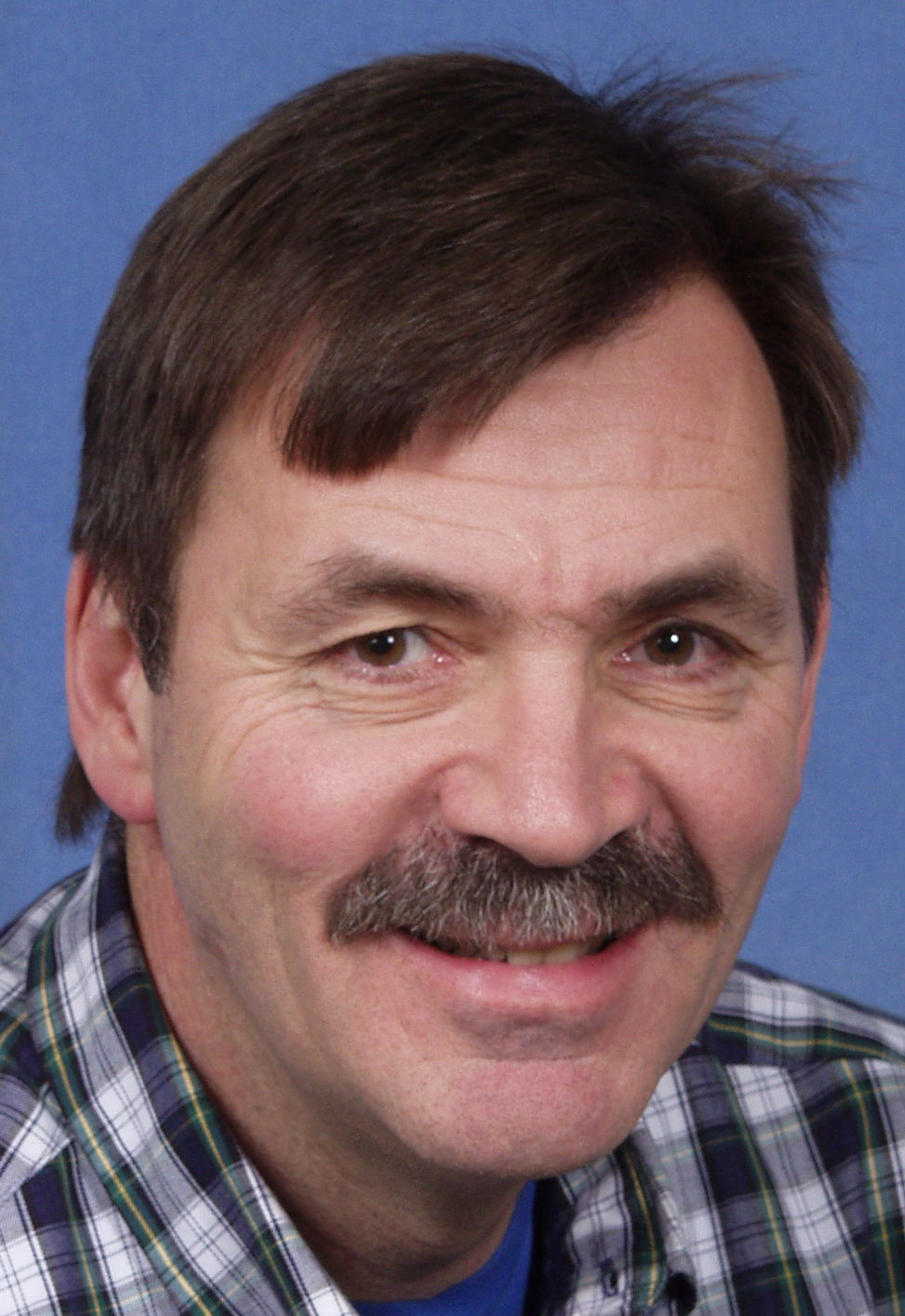 [From Charlie:] David was first of all an example of dedication, which became contagious to those of us who knew him.  This dedication was displayed in his work ethic, attention to detail, organization, and planning, with an emphasis on serving each of the guests and visitors to the Creation Museum.  Additionally, his putting forth 110% effort  in everything he was asked to -- or decided to -- do.

We who were blessed to served under him came to experience his compassion for others, reliability and predictability as a leader.

Finally, a love for his Lord, and for life and family.
[From Joy:] When Dave saw a need, he would jump in and take care of it himself.
[From Mary Jo:] David lived and breathed this ministry.  He was always putting the guest first and wanted to make sure everyone left with a good experience.  He always said, "err on the side of the guest."  He cared about his staff and treated us like family; he was a great example of Christian leadership.
[From Karen:] David was a  hard worker; he was diligent in meeting Guest Services schedule requests; he worked hard to make "Raving Fans" of the museum; and he was frugal.
[From Adam:] David was like the servant with 5 talents, who he gave back unto the Lord 5 talents more (Matt. 25:20).
At Saturday evening's memorial service, many tributes were paid to this servant of God. Here is a copy of the cover of the program that was passed out, with a photo of Dave and his family taken at the Creation Museum and in front of our "green screen" (with the museum grounds in the background).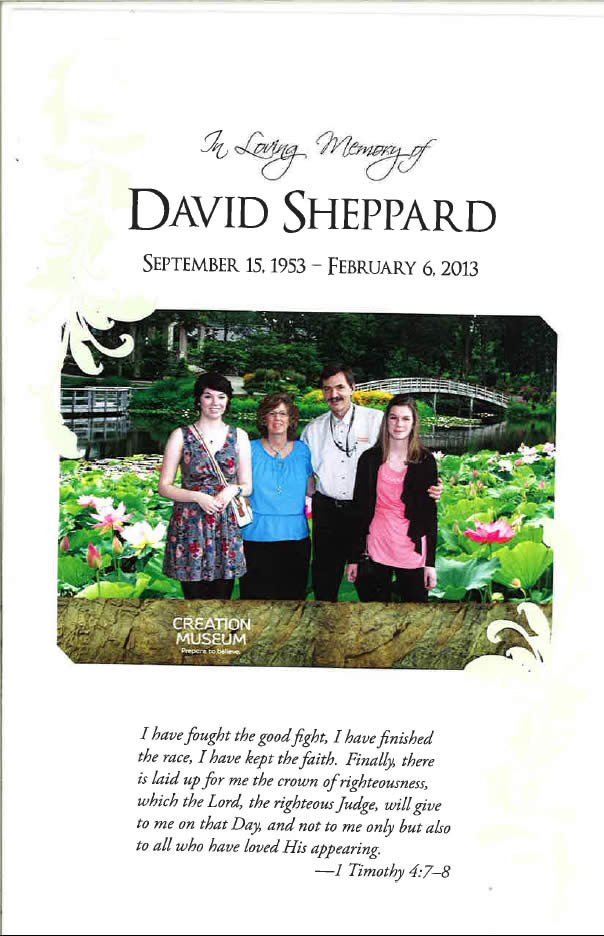 Because of David's passion for the creation/gospel message, the family asked that in lieu of flowers, people could send a gift to AiG's next major outreach, the Ark Encounter project.
Our condolences to the whole family. While Pam and their daughters (and we) are aware of why God allows cancer, other diseases, and death in this world, and as we celebrate Dave's home-going and rejoice that he is no longer in pain, it is still a time of sorrow. Pray for the Sheppard family and friends, including his grateful and mourning colleagues at the Creation Museum and AiG.
Our talented cartoonist Dan Lietha drew this "After Eden" cartoon in honor of Dave: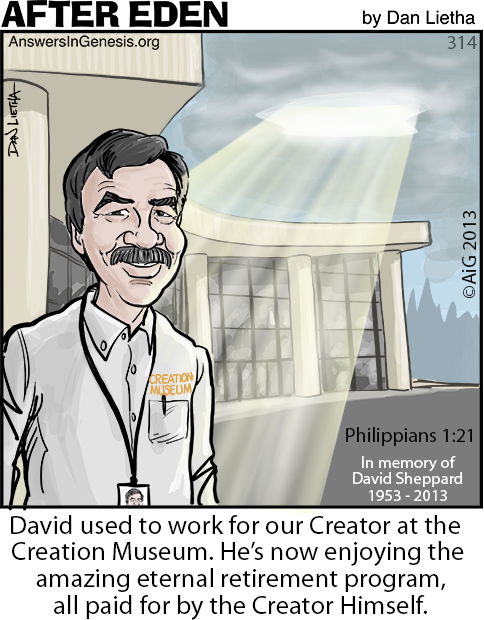 Dave's obituary appeared in the Kentucky Enquirer on Friday; here are excerpts:
David Sheppard, age 59 of Crestview Hills, KY, born September 15, 1953, went home to be with the Lord on February 6, 2013 surrounded by his loved ones in his home after valiantly battling cancer. He was manager of Guest Services at the Answers in Genesis' Creation Museum. David was a member of Grace Fellowship Church in Florence, KY. David was a dedicated father and husband and was deeply committed to his ministry at the Creation Museum. In his spare time he enjoyed board games, playing cards, sports, animals and spending time with family and friends. He is survived by his wife of 18 years, Pamela Bush Sheppard, daughters, Natalie and Amanda Sheppard, sisters, Kathie Mansfield and Merry Fritz, brothers, Terry Heugh, Doug Sheppard, Donald Sheppard and Dennis Sheppard, also many other beloved family members. In lieu of flowers, memorial donations are requested to: ArkEncounter.com/donate/.
Thanks for stopping by, and thanks for praying—especially for the Sheppard family right now.
Ken