Well, in case you didn't see my blog post announcing the new theme for Answers in Genesis over the next two years, here it is:
Standing Our Ground—Rescuing Our Kids (Galatians 1:4)
And our new ministry theme came not a moment too soon. You see, the American Humanist Association has started a new campaign to teach our children and teens that they are "good without God." As you'll see below, the ad images are clearly intended to communicate that God is not real.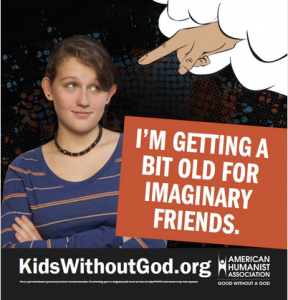 Besides an advertising campaign, this group has started a new website called Kids Without God—targeting our children to teach them that they don't need God. Now, the website is divided into two main parts: a section for young children and a section for teens. Today, I want to show you some of the material being promoted to young children on this website. In tomorrow's blog, I'll follow up with material from the teen section of the site.
Of course, I don't encourage you to necessarily visit this site because of its message and mission to promote humanism, but the URL is kidswithoutgod.com. On the home page, the welcome declares, "Welcome to Kids Without God, a site for the millions of young people around the world who have embraced science, rejected superstition, and are dedicated to be Good Without A God!"
How sad! But what's worse is the message presented by the character on the kids site: Darwin the Dog. Children can read a book on the site called "Meet Darwin," where Darwin the Dog teaches them that the biblical account of history is "just stories."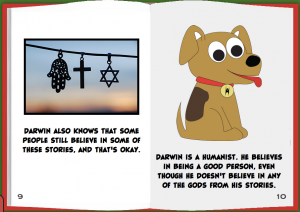 Now, the drawings and images are rather poorly done, but the purpose of the book still comes clearly through: to teach young children that they can't trust the Word of God. Of course, after reading "Meet Darwin," children visiting the site are taught the "7 Promises." (By the way, since we present the Seven C's of history at our museum and other places, I just wonder if the humanists are trying to counter our well-known Seven C's?). The promises are things like, "Be Nice," "Tell the Truth," and "Help Others." But on what basis? Without the Bible, humanists can't promote any kind of morality, because they don't have a foundation!
You know, we're seeing an increasing number of atheists who are accusing Christians—like those of us at AiG—of forms of "child abuse" because we teach children the truth of God's Word in Genesis. But when I see efforts like these from atheist/humanist groups, I think of 2 Peter 3:3, which warns that "scoffers will come in the last days, walking according to their own lusts." The passage goes on to warn of the coming judgment by fire. In this humanistic age, our hearts need to be filled with an urgency to see children, teens, and adults rescued from the coming judgment.
Dr. Georgia Purdom of our staff has written a more detailed discussion and analysis of the Kids Without God website. I encourage you to read her blog post. I also recommend our Answers Book for Kids series as a tool for answering your children's questions about biblical creation.
Also, check back tomorrow on this blog for part two of our review of this humanist website for kids.
Thanks for stopping by and thanks for praying,
Ken