Four AiG couples celebrated 40 years of marriage at last night's special "Legacy of Love" dinner inside the Creation Museum's appropriately named "Legacy Hall." Here are some photos of the evening: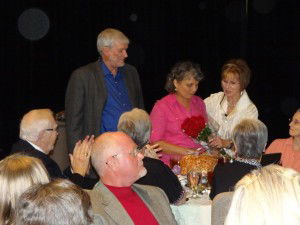 Here is my wife Mally being presented with flowers as I look on; we were married in Australia in 1972.
Wilbert and Kathy Ellis; Kathy has been with AiG 18 years (almost to the very beginning of the ministry), and her husband is a pastor (who also worked at AiG at one time).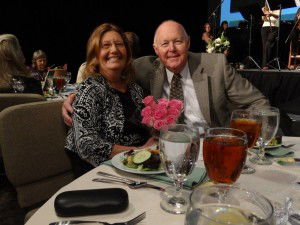 Carolyn and Jim Stiles; Jim is usually on the road with me to set up our seminars, and he is a faithful worker and friend.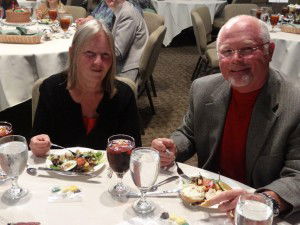 Sue and Mike Zovath; Mike is one of the founders of AiG and was the man in charge of building the Creation Museum.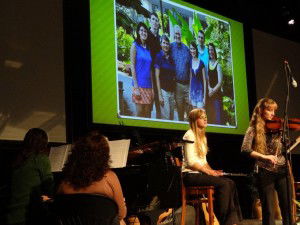 There was special music for our dinner guests, as photos of the four couples and their families were shown on the screen behind the musicians.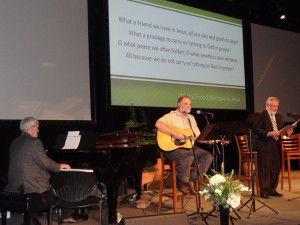 Tom Hill (far right) and Buddy Davis led in worship music, while I played the piano (Mally later joined us on the keyboard).
About 175 people turned out for the special dinner. Among our guests were Dr. Ron Reese and his wife Ann, who flew in from the Washington DC area to be with us; he is organizing a major AiG seminar in DC next year.  All five of our children were in attendance, plus all 10 grandchildren!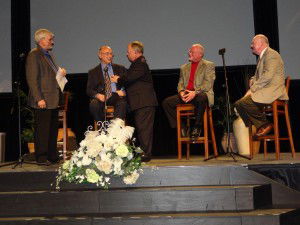 The emcee of the evening was Dr. Tommy Mitchell, an AiG speaker and medical doctor.  With his stethoscope, here he is checking the "heart" condition of the four anniversary men. Jim (far right) was diagnosed as having the biggest romantic heart.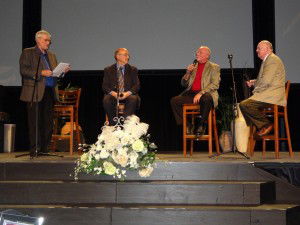 The men were quizzed about how well they knew their wives. Then our eldest son Nathan brought a powerful devotion at the end of the evening.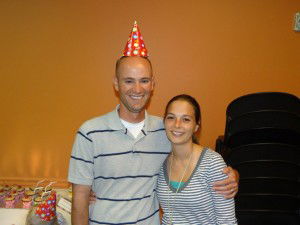 Meanwhile, just a few yards away in our Discovery Hall, Joe Niemeyer of our staff held a surprise birthday party for his wife Kristen.  Many family members and friends showed up for what was a HUGE surprise for her.
At our Legacy of Love dinner,  I was pleased to see long-time ministry friends Roberta and Stanley Vandiver in attendance. Stan is on the museum staff; Roberta is an AiG volunteer.  Roberta broke her hip recently and was also diagnosed with cancer, but she insisted on making the 90-minute drive from Dayton, Ohio, to attend the dinner with her husband.  Please pray for the Vandivers, married 43 years, during this challenging time. Thank you.
Yesterday a group of atheists visited the Creation Museum.  They had the usual bumper stickers on their cars (e.g., "Blasphemy is a victimless crime").  We also often find that these skeptics attend our special programs/dinners at the museum.  We pray those who do attend will be convicted by the Word of God that they hear and see clearly at our events and through the museum exhibits.
Thanks for stopping by and thanks for praying,
Ken