Football fans will recognize the initials of KGB, which represent the well-known defensive end Kabeer Gbaja-Biamila—who played for several years with the NFL's Green Bay Packers in Wisconsin. He spent two days here with his wife and children at our Creation Museum this week. He made the Pro-Bowl in 2003, and he is the team's all-time leader in "sacks" (i.e., tackling the other team's quarterback), having even more sacks than the late Hall of Famer and Christian Reggie White. While he was known for being an outstanding football player, Kabeer is now known as a high-profile, strong Christian in his community. In 2004, he was best known for leading the entire National Football Conference in sacks, and today, there is a different reason Kabeer is so well known in his area.
You may wonder about his last name. His parents were Muslims and of Nigerian descent, although his mother later became a Christian. While a young player with the Packers, he met Gil Byrd, a former player on the San Diego Chargers, and Gil led Kabeer to the Lord.
As his family toured the museum over two days and heard me give talks in our museum's Legacy Hall, Kabeer was asked: knowing that you grew up in the Los Angeles area and also went to school at San Diego State University, why did you end up staying in the colder climate of Wisconsin and not retire to sunny California? He told us that Green Bay was much more family friendly than LA or San Diego, and even with the cold winters in Wisconsin, he doesn't miss southern California too much.
It's encouraging to know that Kabeer is well-known in Wisconsin for his Christian witness (and also throughout his career in the NFL). This is certainly a KGB who is not "under cover!"
Find out more about him (including seeing his photo) at this link.
Georgia Pastor Visits
Another special visitor was here this past week. Pastor Bucky Kennedy of First Baptist Church of Vidalia, Georgia, spoke at our staff chapel on Wednesday, and I had the opportunity to spend some time with Pastor Kennedy and to show him our Ark design studio.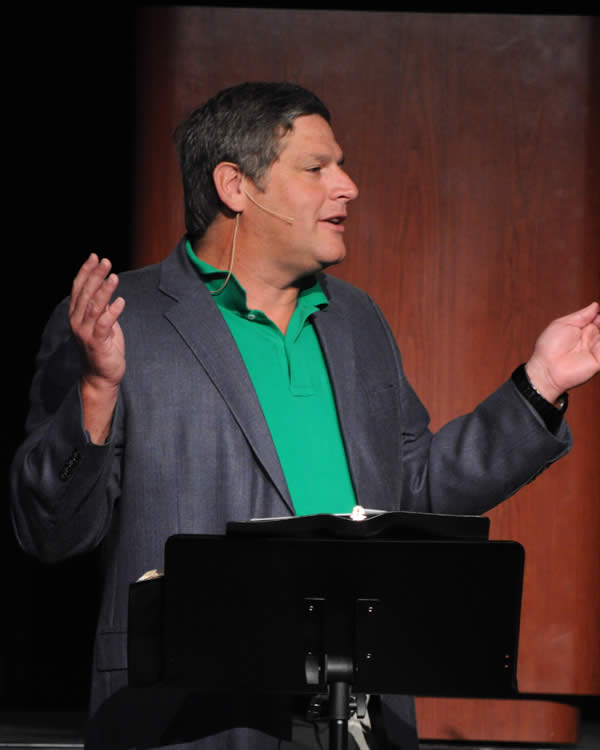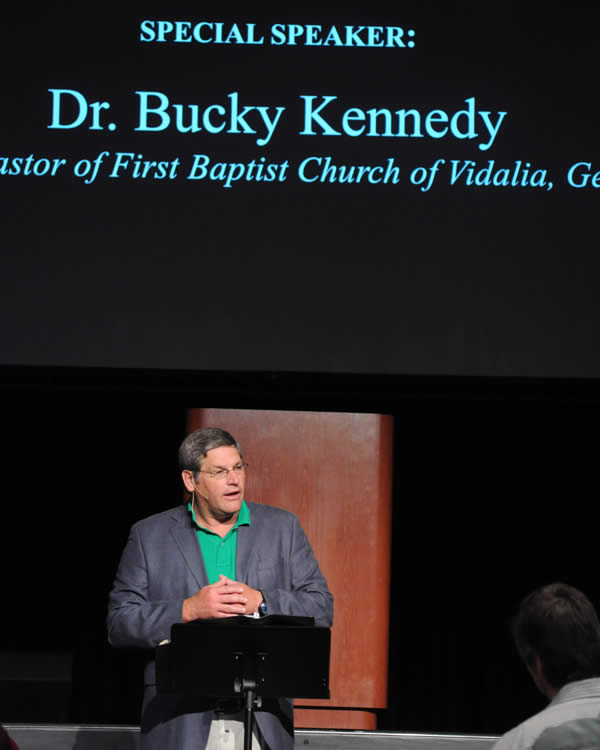 I met with Pastor Kennedy as I was preparing to leave for California for a TV interview and speaking engagements. For information about our meetings at Calvary Chapel church in Downey (near LA) on Sunday and Monday, go to the event page.
Hugh Ross and I Debate for Two Hours on TBN
Last night, a two-hour television program involving six guests in reality turned into mostly a two-hour debate between Dr. Hugh Ross and me. Frankly, I just couldn't sit there and let God's Word be compromised as was happening with Dr. Ross's reinterpretation of Genesis in order to fit in the ideas of fallible scientists. Actually, there were three of us who stood on the authority of God's Word and a straightforward reading of Genesis (Ray Comfort, Eric Hovind, and I) and three who believed in millions of years (Hugh Ross, Sean McDowell, and John Bloom).
You can watch the entire two hours online at this link.
For more on the topic of the age of the earth, read our book Old-Earth Creationism on Trial and this article on Dr. Ross's belief in progressive creation. Also see "How Old Is the Earth?" and "Could God Really Have Created Everything in Six Days?"
Thanks for stopping by and thanks for praying,
Ken