Over 10,000 people (including over 4,000 at the two school assemblies) attended the sessions Sunday through Monday at the AiG conference held at Grace Church in Eden Prairie, Minnesota (near Minneapolis).
We rarely experience such support as we received from the Senior Pastor and all the other pastors/leadership at this church, which is well known in the region for teaching God's Word unashamedly, boldly, and uncompromisingly! What a blessing it was for us to be at such a church. This church also teaches apologetics to the young people to equip them to be able to defend the Christian faith. They bring their young people to the Creation Museum each year!
The feedback was phenomenal!
As I explained yesterday on this blog, two AiG staff drove through the night (over 700 miles one way) to bring a cargo-van full of resources for yesterday's sessions, as we ran out of most books and DVDs by Sunday evening. Most of the extra material was gone by the end of the two school sessions in the morning! I don't think Minnesota will be the same. So much material has gone out into the communities and will be used to train children and witness to people in the region. The following photographs were taken yesterday at various sessions: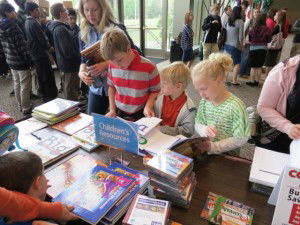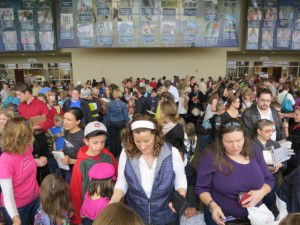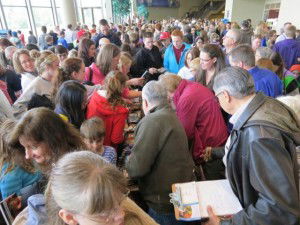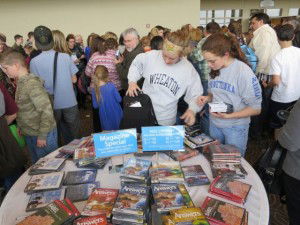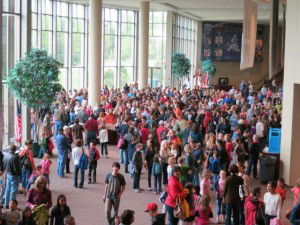 Praise the Lord for the response in Minnesota!
While in the Minneapolis area, Dr. Gary Parker—who spoke with me at the Grace Church conference—gave a chapel talk to students and faculty of Bethel University.
Former Baseball Star Now on Christian Radio—Listen on Wednesday
I'm happy to be returning to the "Frank Pastore Radio Show" on KKLA radio (Los Angeles) on Wednesday, May 2, 4:00 PM Pacific time, 7:00 PM Eastern. You can listen to this very popular radio program online
on their website
, or if you live in Southern California, listen at 99.5FM. I have been informed that KKLA may be the most-listened-to Christian radio station in America.
Baseball fans who are over 40 years old might recognize Frank's name, and those who live here in our Cincinnati area heard his name a few times last month when the Cincinnati Reds played their first baseball game of the season in their ballpark. A staff member shared with me that the Reds won that game "on a shut-out, meaning the other team did not score any runs. Baseball writers recalled that it was over 30 years ago when the Reds won an opening game at home with a shut-out, and Frank was that pitcher for the Reds in 1980. So our friend Frank was mentioned a bit here in our area recently."
Today he hosts the highly successful "Frank Pastore Radio Show" on KKLA. In the past, he has told me of the influence of the late Dr. Henry Morris and his creationist writings, such as his co-authored book The Genesis Flood, in coming to Christ.
Thanks for stopping by and thanks for praying,
Ken