This week, as part of our worldwide outreach, we have Christian leaders here at the Creation Museum from such countries as Canada, Wales, Myanmar, Taiwan, New Zealand, Bolivia, South Africa, Malaysia, India, and the Philippines participating in our International Training Seminar. These people spend the week listening to presentations from our speakers, researchers, and other staff to equip them to be able to teach creation apologetics and creation evangelism in their countries. I will give you updates on ITS as the week progresses. We just ask you pray with us for this special week.
Homeschool Graduate Speaks at Creation Museum
Yesterday at the Creation Museum, Jonathan Lewis, editor of Homeschool Enrichment magazine, presented his talk, "Why I'm Glad to be a Homeschool Graduate: The 5 Big Reasons," as part of our Curriculum Fair at the Creation Museum. It is thrilling to see homeschool organizations and magazines that support the ministry of AiG. Here are two photos from yesterday.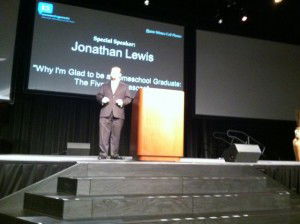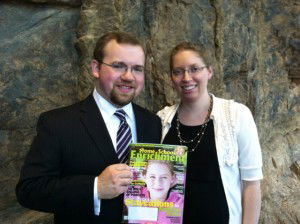 With Jonathan is his wife Linnea holding the new edition of their magazine. You can find out more at homeschoolenrichment.com.
Great Weekend at the Creation Museum
This past weekend we saw lots of visitors at the Creation Museum, and many of them took advantage of our special Curriculum Fair! We praise the Lord that so many more resources are going out into the culture to equip Christians to defend the Christian faith and challenge non-Christians concerning the truth of God's Word and the gospel.
Thanks for stopping by and thanks for praying,
Ken