In a nutshell it's this—buy one museum ticket, get three free for college students on the following Fridays: March 16, March 23, March 30, April 6, April 13, and April 20.
I have been on the road (and even overseas) for the past few weeks, and so much has been going on back in the office that it's hard to keep up. I just learned of this great Creation Museum promotion, which we're hoping will draw even more visitors than usual as we start to see a growing number of guests during Spring break for college students.
To encourage these students to come here and not engage in some mindless or frivolous activities during their break, we are offering this very special museum discount for college students. Buy one museum ticket, get three free on six upcoming Fridays.
It doesn't matter which college student is buying the one ticket as long as the three others (or it could be two others or one other) show a current valid college student ID to get their free tickets. The paid ticket must be full price at the adult rate, and only the people in the party receiving free tickets need to show their college ID.
While here, the college students can register to win a pizza party for them and their other friends (to be awarded in the form of a gift card).
The "buy one get three free" offer is valid on Fridays over the next few weeks as follows: March 16, March 23, March 30, April 6, April 13, and April 20.
Our hope is that this offer will encourage college students to bring their skeptical friends here. Perhaps some of them will consider swinging by the museum on their way to their spring break destination.
The success of this special campaign will be dependent upon a grass-roots effort, so please share, post, forward, and tweet this great offer to friends, youth group, pastor, campus ministries, and anyone else who might help get the word out.
Please note that this offer is not valid with other museum promotions/discounts/offers.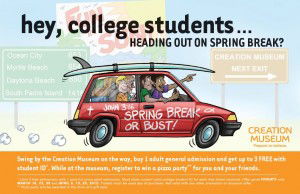 Thanks for stopping by and thanks for praying,
Ken