Florentin Clipa of Romania has just paid his third visit to the Creation Museum in the past two years. This time he was joined by his brother Pavel. They are evangelists in Eastern Europe, based in northern Romania. Now that the Iron Curtain has fallen (can you believe it, it was more than 20 years ago?), there are many more opportunities for Eastern European Christians like Florentin to share their faith.
Their father, a pastor, died at the hands of Communist authorities in Romania in the 1980s, but his children have carried on his evangelistic efforts. Florentin and Pavel are with a missionary group called Vision Outreach Romania (VOR). Florentin spoke to our staff last year in chapel, and he shared how he is using biblical apologetics in his evangelism.
Here is a photo of Florentin and Pavel taken with me inside the museum's Noah's Cafe.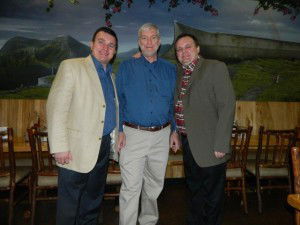 These brothers are absolutely passionate about reaching their countrymen and people in neighboring countries with the gospel. Here is one reason why.
They are two of seven children. Their father's suffering at the hands of Communist oppressors in the 1970s and 1980s was somewhat similar to what was experienced by the world's most famous Romanian preacher, Richard Wurmbrand—author of the bestseller Tortured for Christ and founder of Voice of the Martyrs. Pastor Clipa, however, did not have the kind of prison stay that Wurmbrand had. That's because Pastor Clipa had seven children, and authorities did not want to have the father, the breadwinner, to be taken away to prison and away from his job and thus have the state take care of eight people that he would have to leave behind. So here's what the Romanian secret police did. They detained Pastor Clipa in the evenings at a jail (and often in the early morning), where he was subject to many beatings. He would then be brought home so he could get a bite to eat and then get ready to go to work so he could earn money for the family. After work, he returned into custody. Incredible.
The beatings suffered by Pastor Clipa took their toll, and he died of internal injuries at the age of 42, leaving a widow and their several children. All seven children love the Lord today, and are involved in various evangelistic outreaches throughout Romania and neighboring countries. Their mother, now in her 60s, does not look back with bitterness on how her husband and family were so mistreated under Communist rule (Romania became free over 20 years ago).
Interestingly, in their visit with us, both Pavel and Florentin indicated that opposition to their evangelistic work no longer comes from the government, but from the church—the Orthodox church (which is so powerful in the country). Compromise in the church regarding biblical authority does not just exist in America; it's a major problem in this once-Communist nation of Romania.
Find out more about Florentin, Pavel, and VOR—including their outreach camps for children and teens—at www.charis.ro. We appreciate the prominence given to our AiG website and Creation Museum on the right side of the homepage.
A Great Camp
This past weekend, Steve Ham had the opportunity of being a part of the "Signs of Life" winter retreat youth camp, with the theme "With Every Heartbeat," in Lake Michiwana, Michigan. He reports the following:
It was a true privilege to be with a group of pastors from smaller churches who pooled resources to bring their youth together for equipping in the Word of God. The theme of the camp was around giving our all for Christ, and messages were given from various pastors and myself. The idea behind this camp came from Pastor Eric Mock who has a passion to really equip youth with the truth in God's Word and point them to the sufficiency for life in Jesus Christ and train them to serve in the church. The electives were all centered around training the youth for serving in the church including teaching young men to preach. It was a joy to be a part of the final session of the camp that was totally youth led based on the training they had received during the weekend.

A Great Strategy: Pastor Eric combined with other pastors who are running two camps per year. One winter camp based on equipping youth to serve, and then a summer camp based on equipping youth to defend their faith. The summer camp is based around the teaching of the Creation Museum and is actually held at the Creation Museum. The more I have seen this in action the more I have been impressed with this wonderful combination of growing spiritual maturity alongside growing biblical foundations in such a strategic way.

A Great Game: During the camp we played a game whereby the youth had to smuggle Bibles (toothpicks) past agents (the adults) to get them to their contact for distribution. If the adults caught the youth, they had to be able to explain the gospel to them and answer questions in order to be let go. It was great for me to see how many of the youth were able not only to give a good description of the gospel but also defend it. It was also great to be able to help some of them with answers and teach them apologetics in such a practical manner.
Here is a photo taken at the youth camp.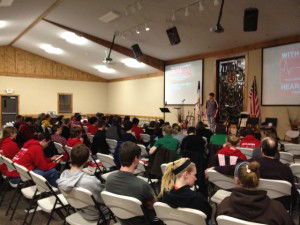 Thanks for stopping by and thanks for praying,
Ken