Yesterday morning, AiG staff had the privilege of hearing a special guest speaker expound Proverbs 16:9, "A man's heart plans his way, But the Lord directs his steps."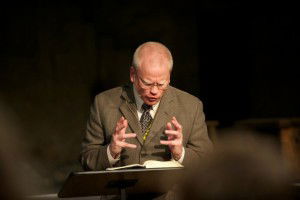 Our guest speaker was Don Green, Managing Director of Grace to You, where he oversees the daily operations of John MacArthur's international media and radio ministry. According to his bio, Don was a litigation attorney in Chicago for several years before leaving his law practice to attend The Master's Seminary, where he completed his M.Div. and Th.M. degrees with highest honors. As an ordained elder at Grace Community Church in Sun Valley, California (just north of Los Angeles), Don pastors GraceLife, a group of more than 600 adults. He has published several articles on biblical themes.
Don was in the area to meet with a local group that has called him to pastor a church plant in Northern Kentucky—he has accepted that call.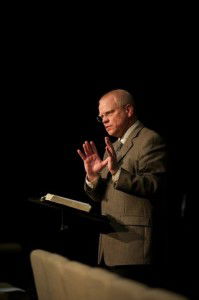 As many of you have expressed interest in being able to listen to presentations given to our staff at their special chapel time, I do make a number of these available to you throughout the year. I encourage you to listen to this challenging and uplifting message from Pastor Don Green. You can listen to this 20-minute powerful message below:
AiG staff are often privileged to hear presentations from many well-known Christian leaders at their weekly chapel times.
Thanks for stopping by and thanks for praying,
Ken