Nepal is a small land-locked country between India and China. The nation is known for its mountains—containing eight of the world's ten tallest mountains. Of course, this includes the highest one on earth, called Mount Everest.
Two young men from Nepal attended the All-Asian Creation Conference in Malaysia last year where Dr. Andy McIntosh, Dr. David Crandall, and I (and others) spoke—with about 1,000 people in attendance from 20 countries.  These men came and told us that they now wanted to go home and have a creation conference in Nepal. We tried to encourage them but were aware of the huge political and religious obstacles that they would face.
They went home with the prayer of Caleb on their lips, "give me that mountain," as it relates to their homeland and a creation conference.
I am pleased to tell you that in April there will be the first-ever creation conference in Nepal. This conference will be held in Khumaltar, Kathmandu, and may have over 500 in attendance. Dr. Crandall shared with me that in April "the Mountains of Nepal will rejoice with the Words of the Creator."
The photo below is of the two excited young men. I spoke to them a few times at the conference, and they just loved the teaching they heard.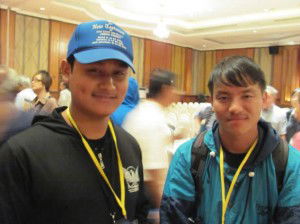 Please pray for Nepal and the upcoming creation conference.
Thanks for stopping by and thanks for praying,
Ken