Recently a group of science students from Bob Jones University visited the Creation Museum. Dr. David Boyd, professor of biology, brought the group and commented he would like to make this a regular part of the students' education. I wish a lot more Christian colleges would do this! The students wrote about their Creation Museum experience, and I wanted you to read some of their feedback. The following is a photo of the group and excerpts of what some wrote:
KZ: I really enjoyed the opportunity to visit the Creation Museum with my Evolution and Origins class. The museum, including its many exhibits and the planetarium show, was all wonderful, but more than that I enjoyed the opportunities to talk with [AiG staff] ... I was also very thankful to Mr. Steve Ham for taking us on a tour behind the scenes, and for his willingness to share his heart for his ministry with us.

JW: I appreciated seeing the ministry aspect of the museum probably more than the aesthetic portion. Also, I was impressed with the staff's professionalism that proved that they could stand up and argue scientifically.

KB: Our trip to the Creation Museum was very profitable for me … AiG's firm stand on the truth of the Word of God, their goal to defend the history of the Bible especially concerning the first eleven chapters of Genesis, and their interpretations of science in our world based on the Bible are great encouragements to me as a young earth Creationist. The wonderful Planetarium presentation … not only blew my mind with the vastness of our universe but reminded me how insignificant and worthless I am apart from Christ's saving work. In Christ I have infinite worth because Christ has infinite worth …

AH: The trip was really beneficial. What really helped me the most was seeing that there are intelligent people, with success in various fields, believe in the Creation account. I find it sometimes a little discouraging by how prevalent evolution is and how those that don't believe that is how life came to be are looked down on … I also loved the museum. It was so well done and professional. It does a great job of not only presenting data for Creation but also presenting the gospel very clearly. From this trip, I know have a great interest in returning to spend many more hours analyzing the stuff I didn't get to spend much time on and also to bring other people I know so that they can see the museum. It is a great soul winning opportunity for those that are unsaved and a great display of facts to help those that are saved that are struggling with the Creation-evolution debate.
Bob Jones University is one of the few creationist colleges recommended by AiG and listed on our
creationcolleges.com
website
2012 IncrediWorld VBS
Recently we held two fun
IncrediWorld Vacation Bible School (VBS)
workshops here at the Creation Museum. These free, hands-on workshops were attended by dozens of participants from churches as far away as North Carolina! They showed videos that help churches to recruit volunteers and attract kids, taught an actual lesson, played sample songs and song-motions, made handcrafts, and of course, made and ate some great
IncrediWorld
snacks.
Eddie Lutz, the Answers VBS and Creation Museum representative to the Ohio, Indiana, and Kentucky tri-state region, began the hour-and-a-half workshop with an overview of IncrediWorld followed by an actual lesson being taught, a craft, and a Q&A session. Eddie leads VBS in his own church (where he used our Gold Rush VBS last summer). His love for children really helps him to connect with children's ministry leaders.
This is Answers in Genesis' fifth year of creating and publishing a high quality VBS program. We believe kids deserve good answers to their real-life questions. By showing them God's Word is true and the importance of understanding it in today's world, we pray they'll also embrace the salvation message woven throughout each year's VBS!
If you're interested in attending one of these free workshops at the Creation Museum, there is still time to register for either the February 3 or February 4 event. Click here for more information.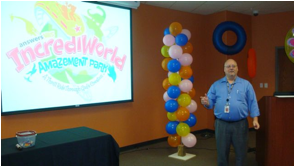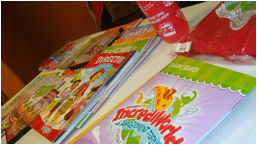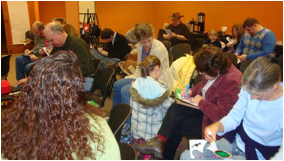 Thanks for stopping by and thanks for praying,
Ken