It was a thrill yesterday for the Creation Museum to host Scott Fowler of the well-known southern gospel singing group "Legacy Five" and his family. (By the way, you can watch a video clip of Legacy Five on YouTube.)
I had the opportunity to spend some time with Scott, his wife Taryn, and their two sons Preston and Bailey.
Here is a photo of me with the family taken in my office, and I am holding their new CD entitled Legacy Five—A Wonderful Life. My wife and I both love southern gospel music, so we are looking forward to listening to the new CD.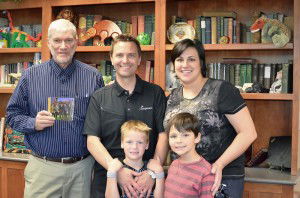 Here is another photo with the family taken in AiG's new observatory and in front of the famous (and original) "Johnsonian" Telescope.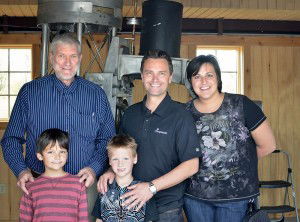 And yes, we did discuss the possibility of a Legacy Five concert in our aptly named Legacy Hall at the Creation Museum. We trust this will happen in 2012.
You can find out more about Legacy Five at www.legacyfive.com
Pastors and Christian Leaders' Conference Begins Today
AiG's pastors and christian leaders' conference begins today in Legacy Hall and goes through Thursday. For more information go to
the conference website
.
Thanks for stopping by and thanks for praying,
Ken