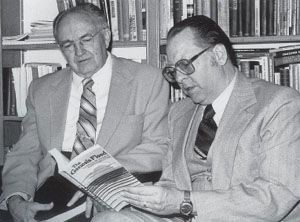 This coming Friday evening and during the day on Saturday, AiG is holding two very special events at the Creation Museum's new 1,000-seat auditorium to honor two heroes of the Christian faith.
This year is the 50th anniversary of the publication of the famous book, The Genesis Flood, co-authored by Dr. Henry Morris and Dr. John Whitcomb. There is no doubt that the Lord used the publication of this book in beginning the modern biblical creation movement.
In fact, this book (as well as The Genesis Record by Dr. Henry Morris) had a profound influence on my life. And as I often say, the Creation Museum and Answers in Genesis ministry are in reality legacies of four special people: My Mum and Dad, and Drs. Morris and Whitcomb. That is why we named our new auditorium "Legacy Hall." We trust the legacy of these special people will be taken up by families as they pass a spiritual legacy on to their children.
Furthermore, to honor Dr. Morris and Dr. Whitcomb, the Creation Museum has named two of our classrooms "The Morris and Whitcomb Rooms."
This Friday evening, a special banquet is being held in honor of these two men. Dr. Henry Morris passed on to be with the Lord a few years ago, but the Morris family will be represented by our good friend, Dr. John Morris, president of the Institute for Creation Research. We are thrilled that Dr. Whitcomb will be with us in person as we celebrate the publication of this ground-breaking book that the Lord has blessed in so many ways around the world. I have met many people who have told me that The Genesis Flood book "saved them" from their compromising college or seminary so that they did not stray from the authority of God's Word. I have had others testify that they became Christians as a result of this book.
On Saturday, Dr. Whitcomb, Dr. John Morris (ICR), Dr. Terry Mortenson (AiG), Dr. Andrew Snelling (AiG), and I will give a series of presentations dealing with the Flood and related biblical and scientific issues in a unique one-day conference at our museum. You will probably never again have the opportunity to see these five speakers together for such an event. I urge you to make an effort to come.
You do have to register for the Friday evening banquet (by noon today, Monday), but the Saturday all-day conference is free with your paid museum entrance (or free with your museum membership).
You can see all the details on our outreach site.
Thanks for stopping by and thanks for praying,
Ken