Our second Dinosaur Dig of the summer has just concluded in Glendive, Montana. AiG's Buddy Davis and about 20 friends of the ministry unearthed some really nice finds—like a dinosaur rib (about three feet long) and a dinosaur vertebrae. This makes our fourth trip over the past two years working in conjunction with Otis Kline and his group Foundation Advancing Creation Truth (FACT)—see http://www.creationtruth.org. The Creation Museum anticipates hosting a couple of more digs in the near future if you are interested, check our website from time to time.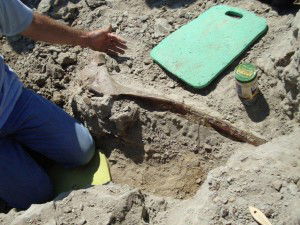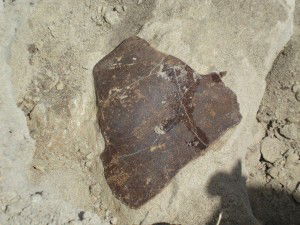 Come to Unbury Caesar (Creek's Fossils)*
Meanwhile, Dr. Andrew Snelling—our staff geologist—helped lead a fossil hunt for members of the  Creation Museum who were in town to attend AiG's Apologetics Mega Conference last month.  About 30 participants, from children to grandparents, set off early for Caesar Creek State Park in Ohio, one and a half hours' drive from the Creation Museum. After an introductory talk on the fossils to be found, the group headed off to the fossil-collecting area along the walls of the dam spillway; Dr. Snelling tells me it was excessively hot and humid, but the effort was worth it all. A vast array of excellent fossil specimens were collected, including fragments of a trilobite and a cephalopod, and plenty of lamp shells (brachiopods) and lace corals (bryozoans).
The event closed with lunch at a picnic pavilion and a closing talk on the significance of these fossils in terms of the Genesis Flood. (Dr. Snelling is the author of the sequel to the classic book The Genesis Flood, entitled Earth's Catastrophic Past). Here is a photo of the group dig: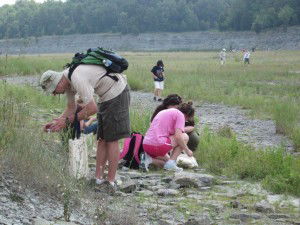 *With apologies to Shakespeare and his play "Julius Caesar"—and the phrase: "Friends, Romans, countrymen, lend me your ears; I come to bury Caesar, not to praise him."
Here Before You Know It
Quick—what major international event will be happening exactly one year from now and AiG will be there? On August 2, 2012, over 100 AiG Supporters will join Dr. David Crandall and me in London, England, for the 2012 London Olympic Games. For 10 days, our AiG team will be on the streets of London conducting efforts in "creation evangelism." A special evangelistic booklet entitled
Big Ben—Time
will be distributed—in 10 languages—through-out the city.
The world is coming to London by the millions, and AiG will be there with the wonderful truths of the Word of God to present to them.  Please be in prayer that this evangelism outreach will result in hundreds/thousands coming to Christ. Perhaps you will consider joining the team? Details are forthcoming on our website, but please think now about blocking off a chunk of August of next year and join us.
Thanks for stopping by and thanks for praying,
Ken