The special chapel speaker for our staff last week was Pastor Edgar Moralesjude, a Hispanic outreach pastor in our region of Northern Kentucky and the Cincinnati area. (He works with Erlanger Baptist Church.)
Originally from Bolivia, Edgar shared how he became a Christian and how he is now engaged in helping run three churches in the area where the services are held in Spanish.
We donated a set of our Spanish-language DVDs to him. This is a set of six talks that I videotaped in Mexico a few years ago and someone did a simultaneous translation into Spanish (quite a remarkable feat!) Find out more about this Spanish Creation Mini-Series in our online bookstore.
To reach Edgar's ministry, go to www.erlangerbaptist.org/edgarmoralesjude.
New Exhibit Being Installed
Here is a photograph of a section of a new exhibit currently being installed at the Creation Museum. This display will inform people about all the various ministries that are part of Answers in Genesis, Creation Museum, and Ark Encounter. The entire exhibit should be installed by the end of this month.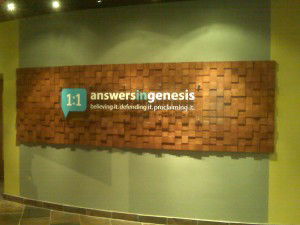 Galapagos Adventure—Day 5
Today Dr. Georgia Purdom of our staff posted another blog entry from her adventure in the Galapagos Islands. Here is an excerpt:
As I write this blog, it is morning and I'm looking out my cabin window at what seems like an endless sea of blue. Yesterday we visited Española, the southern- and eastern-most island. It is also the oldest of the islands and is covered in vegetation. We were greeted on shore once again by Sally Lightfoot crabs and sea lions. Many of the sea lions were nursing young. . . .

As we watched the sea lions and marine iguanas, very curious birds began to appear at our feet. They are the hood mockingbird. Mockingbirds were a favorite of Darwin when he visited the islands. According to our naturalist, the mockingbirds have a type of symbiotic relationship with the marine iguanas. They eat parasites and insects off the iguanas and serve as an alarm system if they spot a Galapagos hawk. The iguanas cannot make noise to warn each other about danger so the birds do it for them. When the birds screech in a certain way the iguanas know there is danger and will quickly run for cover.
Visit
Georgia's blog
to read more and see some photos from her trip.
Thanks for stopping by and thanks for praying,
Ken