I wanted you to pray for the Norberg family this week. Its patriarch, Frank, passed away on May 18. Many of Frank's family members are good friends of the AiG ministry, as was Frank himself. In fact, Frank's son Jeff—who lives in Montana—hosted me and some ICR speakers about 20 years ago when Jeff was the chairperson of a well-attended creation conference in Missoula, Montana.
Frank spent most of his life in Montana and later moved here to northern Kentucky with his wife Sharon. They had many friends among the AiG staff. Frank was a newspaper man in Montana (and quite an outdoorsman, I hear, in that beautiful state), and eventually became editor of a magazine.
Please pray for Sharon and the rest of the family—Frank leaves behind six children, many grandchildren, and a great-grandchild.
We rejoice that Frank has a new body—he had gone through quite a debilitating disease in the last few years.
Frank, who was 83, was commemorated at a memorial service on Sunday here in our area. Here's a recent photo of Frank: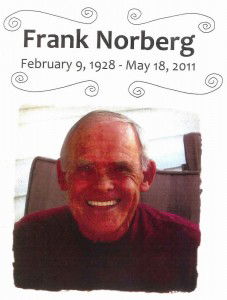 Also, a few days before that, we lost another ministry friend: Archie Kidd. Archie did a lot of AiG's printing jobs in the 1990s when we were a brand-new ministry. With his shop only a few miles from AiG, he was just a quick drive away and was known to do quality work at a very reasonable price. This fine Christian man was also a volunteer at Calvary Baptist Church in northern Kentucky, where a number of AiG staff attend. Pray for his wife Fannie and son Stephen.
Burning Flame
Here is a short but very encouraging note received at AiG:
Since [we came ] to the museum 2 years ago the revelation that I received there has changed the way that I read the Bible and has put a burning flame in me.
Thanks for stopping by and thanks for
praying
,
Ken