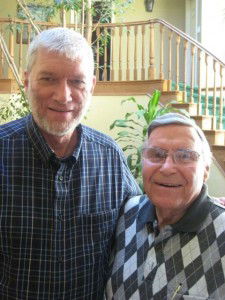 While in San Diego yesterday, I had the privilege of meeting up with an old friend—known as the world's most famous creation debater, Dr. Duane Gish.
I had the honor of working alongside Dr. Gish when I worked with the Institute for Creation Research from 1987–1993. For the past 40 years, he has written a number of books and many articles dealing with the creation/evolution issue. He has also conducted hundreds of creation/evolution debates. Dr. Henry Morris founded the Institute for Creation Research, and Dr. Gish was the first full-time scientist and became the vice president of ICR.
Recently, Dr. Gish turned 90! It was great to catch up with him—and to hear him still telling jokes as he always loves to do!
Job Opportunities
Recently I posted a list of Job Opportunities available at AiG on my
Facebook page
. Here is the list for my blog readers.
Job Opportunities in the United States
Application Developer I
Constituent Data Administrator (CDA)
General Accountant
Housekeeping Staff
Java Script Web Developer
Outreach Event Coordinator
Seasonal Food Service Support Staff
Other Seasonal Staff
Senior Database Administrator (Senior DBA)
Warehouse Specialist
Web Developer—Python
Web Designer
Web Operations Coordinator
Web Order Associate
Zoo Keeper
For further details, take a look at
our jobs page
.
Thanks for stopping by and thanks for praying,
Ken