Every year, the Kentucky Tourism Council (KTC) honors the talent, creativity, and effectiveness in marketing and public relations from its members, one of which is the Creation Museum. This past Tuesday evening, the KTC hosted the 2010 Traverse Awards for Excellence in Tourism Marketing at the Northern Kentucky Convention Center with several hundred people in attendance representing organizations like Newport Aquarium, KY Dept of Parks, Shaker Village, and Louisville CVB, to name a few. Last year, the Creation Museum won several categories, including Best of Show!
This year, the Creation Museum received four awards. The Traverse Awards are presented annually for the best work in advertising and marketing among Kentucky tourism businesses and marketing organizations. This year, a panel of out-of-state experts in tourism marketing judged 210 entries from across the state. Each entry is judged on creativity and how well it relates to its audience.
The Creation Museum received first place awards for the Souvenir Guide and Billboards, and honorable mention for our dinosaur bobblehead and newsletter. Here are photographs of the winning items: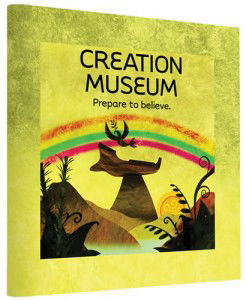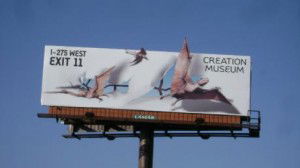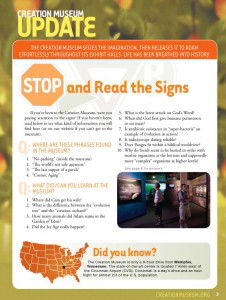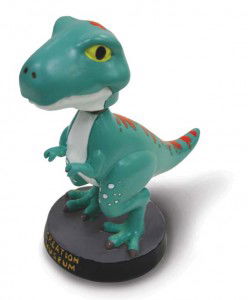 I have also included a photograph taken of Mally and me on the Columbia River Gorge earlier this year, holding our dinosaur bobblehead: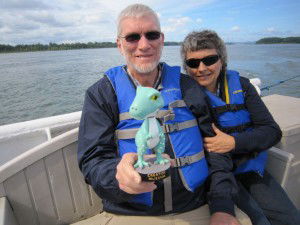 The Kentucky Tourism Council is a state association based in Frankfort, Kentucky, that represents every segment of Kentucky's tourism industry. The almost-600-member organization offers continuing education programs, provides legislative advocacy for Kentucky's travel industry, and works in governmental relations.
For more information on the Creation Museum, go to www.CreationMuseum.org.
Creation Museum in Danish Paper
A two-page spread (with a rather silly headline) on the Creation Museum appeared in the Danish paper,
Berlingske Tidende
.
Wikipedia states the following about this paper:
Berlingske Tidende is a Danish daily newspaper. Founded in 1749 by Ernst Henrich Berling, it is the oldest Danish newspaper still in existence, and in the World only eight other newspapers (Post- och Inrikes Tidningar 1645, London Gazette 1665, Wiener Zeitung 1703, Hildesheimer Allgemeine 1705, Hanauer Anzeiger 1725, Sankt-Peterburgskie Vedomosti 1727, News Letter 1737, and Scots Magazine 1739) are older.[2]

With a circulation of about 103,685 copies on weekdays, it is also one of the "big three" broadsheet-quality newspapers in Denmark along with Jyllands-Posten and Politiken. Traditionally itself a broadsheet, Berlingske Tidende has been also published in the tabloid/compact format since August 28, 2006.[3]

Berlingske Tidende has won many awards in recent years. It is the only newspaper in the world to have won the World Press Photo Award four times. It has also won the most prestigious journalistic award in Denmark, the Cavling prize, in 2009.
The online version of the article is at this link:
http://www.berlingske.dk/verden/hvor-flintstone-er-en-dokumentarfilm
Thanks for stopping by and thanks for praying,
Ken