Of course, the primary time to use a Vacation Bible School (VBS) curriculum is the summer. But creative-thinking churches are adapting it for uses beyond the summer.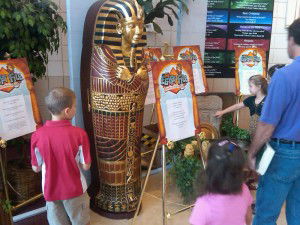 For a special children's church services at Calvary Baptist Church in northern Kentucky, our VBS program The Egypt File is being used. What's been distinctive about our VBS programs—and why it has exploded in popularity (this is only our third year)—is that the curriculum does not just present the Bible as a book of stories with some minor biblical application. We show young people that God's Word connects to every area of life, and it is as relevant today as it was 2,000 years ago. Most importantly, after showing that the Bible is a true history Book of the world, we also present the most-important teaching of all: the Bible's message of salvation is true!
With The Egypt File VBS, children will learn where we came from; who we are; how we can know we'll spend eternity with our Creator; and how we should live.
Think about using an AiG VBS program for next summer or for other special children's programs in your church (maybe for a Wednesday evening program for the youth). Our next program will be called Gold Rush (see http://answersvbs.com/2011/).   This year's VBS, The Egypt File, can also be used in 2011 if you wish (see http://answersvbs.com/2010/).
Because of the research published in our book Already Gone (which showed the vital need to teach apologetics to children of all ages through youth and adult), many churches are now using various AiG curricula as a supplement to their programs—until the entire AiG Bible curriculum is available (2012).  Our VBS programs can be used this way.
All About Creating a Legacy
My brother Stephen and I wrote a book called 
Raising Godly Children in an unGodly World
.  Many people have told us how this book has challenged them
in regard to how they are training their children.  A recent review of this book began with the following:
The Ham family hails from Australia, and Ken and Steve share much of their  family's heritage of the Christian faith that has been passed along to them  through their father.  The book is a wonderful tribute to the Godly example he  had set for his family.  Ken is the founder of the organization Answers in  Genesis, who is the creator of the Creation Museum in Cincinnati, Ohio.

I truly loved the depth of their conviction that if you don't believe  everything that happened in Genesis as it is stated, the rest of the bible makes  no sense.  Standing on the truth of Genesis is the foundation of everything else  that happens through the book of Revelation!  Ken states this in the first  several pages of the book, "The sufficiency and authority of Scripture, properly  interpreted and understood, gives us the basis for godly parenting.  As you take  God's Word and apply its eternal principles to the everyday issues you face with  your family, you will begin to create a godly heritage-a legacy that will impact  the generations to come in ways you never dreamed possible.

This book is all about creating a Godly legacy that you can pass along from  generation to generation.  The chapters are built through three parts, The  Foundation of a Legacy, The Components of a Legacy, and Building a Legacy.
You can read the rest of this review at
this link
.
You can obtain copies of the book from the AiG online store.
Devotion
(Deuteronomy 23:7) Thou shall not abhor an Edomite; for he is your brother: you shall not abhor an Egyptian; because you were a stranger in his land.

We do not prejudicially hate the foreigner; each person whether foreign or not is someone to bring the gospel of the Lord Jesus—or if saved, then encourage.
Thanks for stopping by and thanks for
praying
,
Ken