Two new characters have taken up residence in the Creation Museum: Charlie (who is a monkey with a tail in the shape of a question mark) and Trike (a triceratops). I've been told that Charlie and Trike have lots of adventures planned.  Their first major adventure was to visit the Grand Canyon.
There is now a new illustrated and fun book (with lots of extra items like a map and flaps and pockets with further information etc.) entitled Charlie and Trike in the Grand Canyon Adventure. Children will increasingly encounter Charlie and Trike at various places in the Creation Museum.
Here are some photographs taken recently of the new Charlie and Trike book:
The Board of Directors
AiG's board of directors recently met at the AiG/Creation Museum offices.  Here is a photograph of the board taken in the new Koi pond garden in the museum's gardens: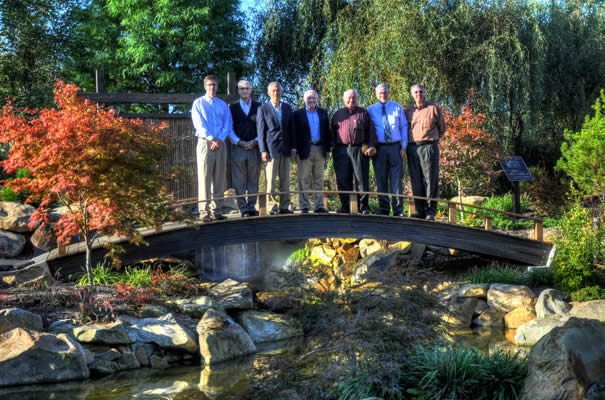 Having Fun at the Creation Museum
Here are some photos of the children of the Biller family (from North Carolina) having fun at the Creation Museum and our petting zoo this week (Renee, Audrey, Luke and
,
Sean Biller):
Devotion
(Isaiah 50:5–8) The Lord GOD has opened my ear, and I was not rebellious, neither turned away back. I gave my back to the smiters, and my cheeks to them that plucked off the hair: I hid not my face from shame and spitting. For the Lord GOD will help me; therefore shall I not be confounded: therefore have I set my face like a flint, and I know that I shall not be ashamed.  He is near that justifies me; who will contend with me.

The Lord Jesus Christ did not turn away from the Father's commandment to give Himself as the Lamb of God to take our sins on Him, suffer, and die.
Thanks for stopping by and thanks for
praying
,
Ken