One of our longtime supporters, Marc Jacobs—who has visited the Creation Museum many times (and has brought over 180 guests!)—is an executive with an energy exploration company (Penneco) based in the Pittsburgh, Pennsylvania area. Marc is not only a big museum fan, but teaches apologetics and creation/evolution in his area. He has also sponsored some of our new "I Am Not Ashamed" billboards, and has two posted in the Pittsburgh area.
The first photo is one that went up recently on Route 66 north of Delmont (an eastern suburb of Pittsburgh).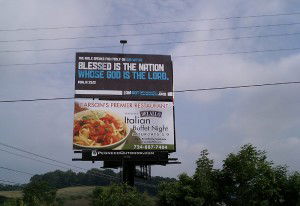 The second photo is of what's called a "digital" board that Marc has helped sponsor.
People who see these boards—and similar ones around the country—are introduced to our special website of www.IAmNotAshamed.org. At that site, people can even record four verses of Scripture as a part of the world's first online video Bible. (Have you done that already? It's not that difficult to do if you have a web camera.) We have a series of special billboards that people can sponsor; each presents what the Bible teaches about abortion, racism, and origins. Here is a sample of one that deals with abortion:
Thanks, Marc, for taking such a public stand! And we'll see you here at the museum—with another group of people you've recruited—in early July.
Why not sponsor a billboard or two in your area? Stand up for biblical truths! Perhaps get a few of your church friends to assist you. It's rather simple to arrange—see info at: http://www.answersingenesis.org/about/iana/involved/sponsor
Thanks for stopping by and thanks for praying,
Ken